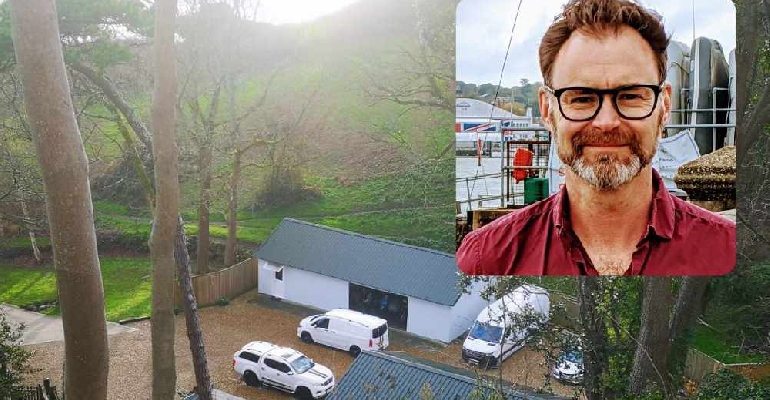 Niton development and Island Labour's Richard Quigley
Island Labour's Richard Quigley has criticised the leader of the Isle of Wight Council for allowing an unauthorised development to go ahead in his ward in Niton - which rural campaign groups say they are 'seriously concerned' about.
Labour's Prospective Parliamentary Candidate for the 2019 election has told Isle of Wight Radio the "mantra" of the developers at Bridge Cottage appears to be "if at first, you don't succeed, build it and apply retrospectively".
As previously reported by Isle of Wight Radio, two retrospective planning applications have been submitted for three garages that have already been built.
The Leader of the Isle of Wight Council Cllr Dave Stewart - whos ward it falls in - says all the issues presented to him by locals have been "passed on to the planning officers."
Niton and Whitwell Parish Council has joined the Isle of Wight Campaign For Rural England (CPRE) and Natural England (NE) in objecting the plans, which the parish has described as 'unacceptable', as first reported by Isle of Wight Radio.
NE is investigating the development - which is in an AONB, SSI and SAC - Mr Quigley says areas don't receive designations for 'fun' and it is a 'community interest' to protect them.
The CPRE told Isle of Wight Radio the scheme 'appears contrary to the Isle of Wight Council's proscribed development policies'.
The Isle of Wight Council has refused to comment.
Island business owner, Mr Quigley is standing to be a local councillor in Cowes at this year's local elections. Just yesterday it was confirmed by the Government that they will go ahead in May, as previously reported.
He told Isle of Wight Radio:
'This is a development in an AONB, SSSI and SAC, areas don't receive this designation for fun. It's because it is in the interest of the community to protect them. If that gets in the way of a developer being able to do what they want, then that's the way it should be.'
He is calling on the leader of the Isle of Wight Council to 'get a hold of this flagrant disregard for planning and the environment.'
He added:
'I completely understand the need for new homes, but the building of three garages (one without permission) hardly helps house people that are currently worried about paying their rent.
'We should not be seen as a soft touch on planning, for too long we have been seen as treasure Island for developers. We need affordable and council housing, not garages in an area of outstanding natural beauty.'
Local campaigners claim woodland and habitat has been destroyed to make way for this development and the parking for vans and trailers.
Reacting to the remarks made by Mr Quigley, Cllr Stewart told Isle of Wight Radio:
"If we have got a planning application processes people need to follow them. If people have gone ahead of the process and put in retrospective applications - which do happen - they can expect the planning department to fully investigate it.
"I think in this case there are a number of concerns raised with me concerning the status of the area...
"As a ward councillor, I make sure all the issues presented to me are passed on to the planning officers...I won't speak on this particular case because it is currently subject to a judicial process."
One in eight retrospective planning applications were rejected by local authorities in England last year (2020). According to official figures, the South East was one of the regions with the highest rejection percentage at 18%.
If a retrospective planning application fails, an 'enforcement notice' can be issued which requires the developer to put things back to how they were.
Scroll through pictures here...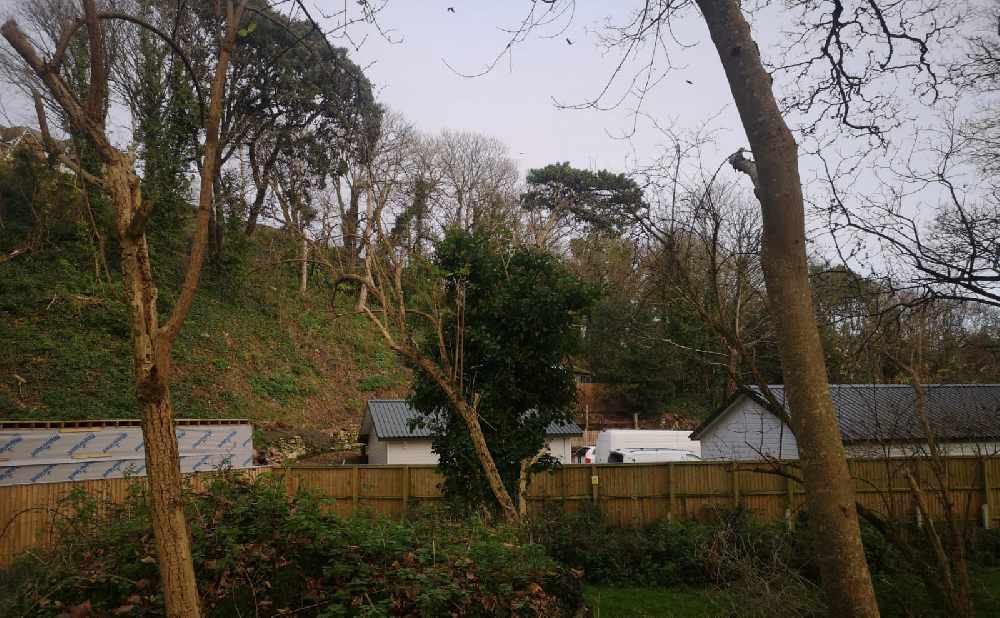 Previous image
Next image
Islanders are no longer able to comment on the application.
The developers have been approached for a comment.