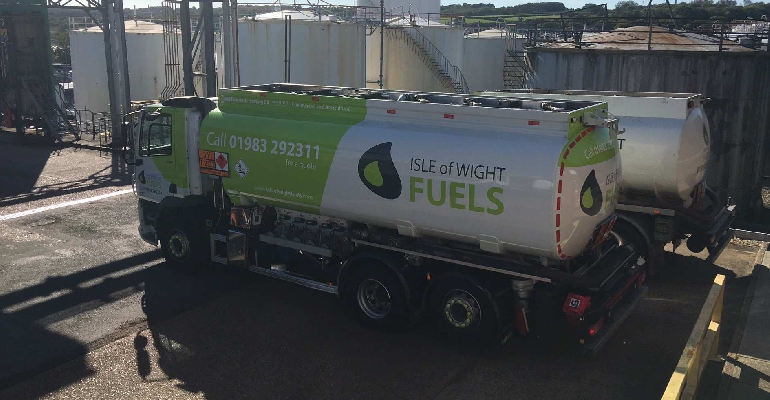 After more than 60 years of supplying the Island's homes and businesses, East Cowes firm Isle of Wight Fuels has announced it will close.
The company, which owns and runs the Island's only fuel and oil storage terminal, says it will shut from early next month (August).
From then on, Islanders and businesses will not be able to place orders, and no fuel deliveries will be made. The news comes after Isle of Wight Radio exclusively revealed the firm was considering its future earlier this month.
According to its website, IWF has 16 full-time staff. The firm says it would like to thank them all for their "professional and dedicated service" over the years.
As well as employees, the decision will also affect a number of major Island companies - and homes.
IWF has been responsible for sourcing Diesel, Unleaded Petrol and Gas Oil products for firms including Hovertravel, Island Roads and Amey. Hundreds of Island homes also rely on the service, with the company sourcing - and delivering - a range of domestic heating oil products.
A spokesman for Motor Fuel Group, the parent company of Isle of Wight Fuels (IOWF), said:
"Following a detailed examination of the trading options of IOWF together with individual consultation with all members of staff, Motor Fuel Group announces that it is not viable for the business to continue to trade.
"Accordingly, and with regret, the IOWF business will close on Friday 7 August 2020. No fuel deliveries will be made or customer orders accepted after this date. We would like to thank our customers for their loyal patronage and our staff for their professional and dedicated service."
Formerly known as Pace Fuelcare, IWF's Kingston Road depot handles 1.5 million litres of fuel every week.
As well as fuel, the firm also plays a pivotal role in the Island's agricultural infrastructure, having supplied Morris Oils and lubricants to a number of Isle of Wight farmers.
An Isle of Wight Council spokesman said:
"The council is aware of the likely changes at Island Fuels. We are working with the company to understand the situation and offer advice and assistance if appropriate and we do not anticipate any disruption to council or other public services, including emergency services.
"It is important to emphasise that a large proportion of the fuel sold at forecourts across the Island is already delivered direct by tanker from the mainland, with supermarkets in particular having their own supply arrangements.
"Those who use Island Fuels for deliveries of heating oil and other fuels will still be able to arrange deliveries from the mainland, as other suppliers do already cover the Island."
Reacting to the news, Hovertravel said:
"Hovertravel is aware of the current news regarding Isle Of Wight Fuels. In line with its normal procedures the company has robust contingency plans for all suppliers, ensuring its fuel supply to maintain its fast and frequent service."
Isle of Wight Fuels will close from August 7.