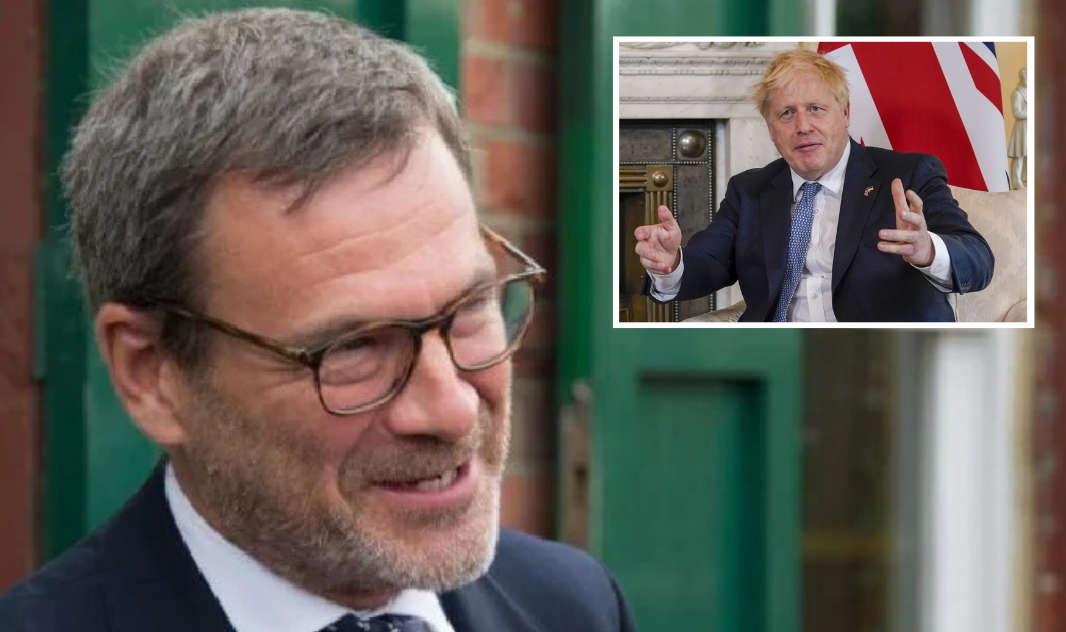 Isle of Wight MP Bob Seely says Government ministers have, once again, promised to look at extra funding for the Island, less than 24 hours after he voted to keep Boris Johnson as Prime Minister in a confidence vote.
But he has come under fire from fellow Island politicians, with one accusing him of falling for "an undelivered mini Island bribe".
Mr Seely hit back at such allegations on Twitter. In response to a tweet from Sky News journalist, Sam Coates, he said he was merely reminding Government about funding promised three years ago.
"I'm doing my job as the Island's MP, putting my people first. Unashamed to do so", he said.
"It's my job."
Tory MP tells constituents he voted for Boris Johnson after securing a review into funding for his local councilhttps://t.co/Q97ISzf6aE pic.twitter.com/6tM500vb8Z

— Sam Coates Sky (@SamCoatesSky) June 7, 2022

The MP was one of 211 MPs who voted in support of the PM. 148 didn't — that's 41 per cent of Mr Johnson's own MPs.
The much talked about Island Deal was first touted around three years ago.
In a statement issued earlier in the day, Mr Seely said:
"I voted that I had confidence in the Prime Minister as Leader of the Conservative Party, although not without some consideration and only after discussion with senior ministers.
"It is clear that some foolish errors were made during Partygate. Boris has apologised. I hope now that he can focus on governing."
"I talked again with ministers about why a fair funding package has not yet been forthcoming for the Isle of Wight Council. I have been assured they will look at this again and will do so in the very near future, ahead of the ongoing review of local Government finance. I will keep Islanders informed.
He added:
"I note that the PM is the only one ever to promise an improved funding settlement for the Island, and as such, and on balance, I would rather continue to focus on getting him to deliver on this commitment than start afresh with a PM who has not made, or may not offer to make, any such offer
Bob Seely's full statement can be read here.
Reacting to his comments, Nick Stuart, on behalf of the Isle of Wight Lib Dems, said:
"Bob takes the biscuit.
"Johnson's actions in law breaking, lying & lack of simple morality highlight why he is held in such personal contempt.
"The ludicrous excuses from Bob Seely and the distraction tactics about an undelivered mini Island bribe are unbelievable. While the failure to hold such dishonourable PM to account is unwarranted and stains the UKs standing, his own reputation and that of more honourable politicians of all parties.
"Johnson should go now and backdate his resignation to when he committed these acts, not now he has been caught out."
For Island Labour, Cllr Richard Quigley said:
"Following the painful to watch interview, in which MP Bob Seely told us that a Prime Minister should be able to lie to the electorate and we shouldn't bat an eye lid, it comes as no surprise that he voted to keep Johnson in place.
"In his statement, he seeks to further defend his decision, saying that he has been assured that "ministers" will look again at the fair funding package for the Island. That "package" was a central part of Bob's election campaign in 2019. He told me again and again at the various hustings, that the PM had agreed to an Island deal (as he called it then) and all our troubles would be over.
"Now either Bob is more naïve than I first thought or not telling the truth comes too easily to the entire Conservative party. He thinks we ordinary people should just realise that sometimes, they have to say things to stay in power. Even if they have no intention of keeping said promise, we should just be grateful.
"The other achievements Bob lists would all have happened regardless of his input, so it isn't sufficient to keep repeating them, hoping that the hard working families on the Island that are currently panicking about their heating and food bills, take solace in his platitudes. They don't. We need real action for people on the Island, from an MP that cares about the Island more than his own career.
"What Bob doesn't understand, is people aren't cross about cake. They are angry, because in or out of Covid, the PM and his staff broke the laws they set. Bob has decided to align himself with a leader that believes he can still be a law maker despite being a law breaker. That isn't a role model for future generations to aspire to. We deserve better."
Cllr Cameron Palin, Vice-Chair of the Isle of Wight Green Party:

"Whilst we all obeyed the Lockdown rules, Boris partied with wine in Westminster and Bob celebrated with Half a Sausage in Seaview! I am of course disappointed that Bob has voted confidence in the PM, but I
cannot say that I am surprised given his track record.

"We have seen the MP choose progressing his own political career over the island countless times and this is yet just another example of that. Bob was elected on the platform in 2017 and 2019 to deliver for the Island,
but 5 years on we still have no island deal! Bob can repeat the line "Ministers have reassured me" all he wants, because he knows the Island
Deal we need will never be delivered under this Conservative Government that has inflicted 12 years of austerity and cuts to the country.

"Has Bob's loyalty been bought by yet another false promise from a desperate Prime Minister who seemingly cannot stop the mistruths from
leaving his mouth? If Bob was serious about delivering for the island he would have voted no confidence in the PM last night and urged for his
resignation.
"The country needs political leaders we can trust, ones that will obey the rules and lead by example. What message are we sending to our
children and younger generations by saying rule-breaking, lying, dishonesty and deceit is okay?

"Islanders deserve an MP who will stand up for them and our Island!"