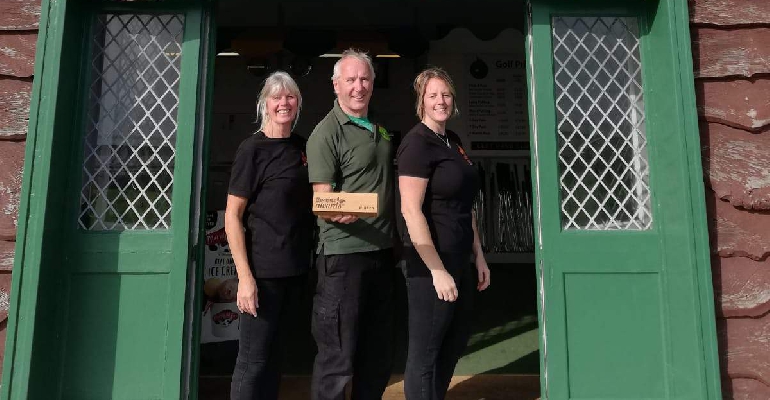 An Isle of Wight family is bidding an emotional farewell as the iconic Browns Golf Course tees off for what could be the final time today (Sunday).
Current tenants Clare Oatley, John Deacon and Cheryl Brazer have run the popular attraction for the past seven seasons.
However, after only being offered a year-long lease to stay at the site, they have decided to hang up their golf clubs for good.
Speaking to Isle of Wight Radio, Clare said the short-term nature of what was proposed, gave them "no real security" in the long run.
As the family bids farewell, Clare has thanked Islanders for their "amazing" support over the years:
"It's been great the last few seasons to see so many youngsters taking up golf, coming up and practising with us and even older generations have been there playing who have never played before.
"It's just a great facility that has just been great for everybody.
"Without your support, your continued support, we couldn't have had the journey we've had and we thank you immensely for coming back time and time again, playing with us and getting to know everybody."
The Isle of Wight Council says it is currently looking for a short-term lease for the attraction.

From left Cheryl Brazer, John Deacon, Clare Oatley.
In the long-term, the local authority has hinted the land could be used for a dinosaur-themed development.
Speaking to Isle of Wight Radio, council leader, Cllr Dave Stewart, exclusively outlined his plans for the "Isle of Wight's very own Jurassic Park" along Sandown Bay.
Clare says she hopes that, for the short-term at least, Browns Golf Course will remain under new tenants. She said:
"For us we can't run a business on a year's lease unfortunately, it's just not possible. Not with everything we have done there, the campfire sessions, private functions you need longer than a year to protect your business.
"The council has said that their looking for short-term tenants. We hope that all of our hard work isn't lost and it does get taken up and Browns does remain. It's just that we've come to the end for us."
After hearing news of its closure, Islanders flocked to social media to thank the family for their years of service at the helm.
More than 2,000 people have so far signed a petition with the aim of persuading the Isle of Wight Council to guarantee Browns' long-term protection and preserve its unique heritage.
You can sign the petition on Change.org.
As for what the future holds for the family, Clare says she isn't too sure just yet, although she is hoping to continue baking with her business Cherry Clare's.
The last tee - under the family's helm at least - will be at 4pm today.