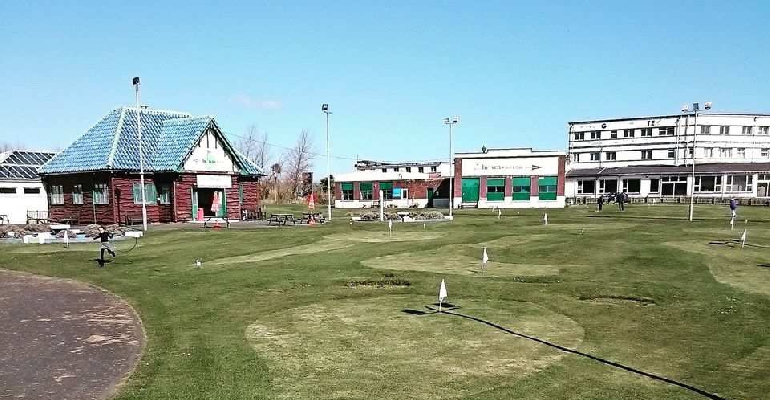 Photo thanks to Browns Facebook page.
Sandown's iconic Browns Family Golf and Cafe is to shut permanently, it has been announced.
Those who run the Culver Parade-based business say they plan to close it for good at the end of this month.
A statement, posted on Facebook, reads:
"Just seven seasons ago we were given the wonderful opportunity to take on Browns from a recommendation of a friend. Within a week we had discussed terms, cleaned the place from top to bottom, found a mower or two , written a small menu and opened the doors on May 24th 2014.
"To say the course was in need of some TLC was an understatement.
"We gingerly served people knowing the course was not where it needed to be but knowing it's great potential to give the island folk a facility back that had been lost.
"Over the years with a lot of hard work and perseverance and the great dedication and knowledge from Dave our Greenskeeper , John and Dave turned the course around to what it is today.
"This Fantastic duo team have brought Sir Henry Cottons Golf Course back to life in a way we never thought possible.
"We have of course faced criticism over the years but being a small family run business we just took it on the chin and carried on with what we were doing knowing that it was better to be here with the doors open than closed and knowing we didn't have the capital behind us like a corporate company..... we just wanted to make it work for everyone.
"The Clubhouse cafe quickly became a hub for mums with the indoor toy area for children and a menu to suit all ages and dietary needs.... something we've always prided our selves on.
"Within the first year we held private parties for all occasions and a couple of public events such as Moon Moth and Music created by Our neighbours Eccleston George and Arc, along with Spike Oatley Music.
"The Campfire sessions were born shortly after which saw hundreds of people come through our doors to the free event for everyone of all ages and really helped put us on the map for having functions here at Browns.
"We quite often read on public forums that nobody uses Browns, people don't play golf.... it's old hat.... but how mistaken you people have been.
"Year upon year the tourists return to us, year upon year we have more locals using our facilities and year upon year we employ more people to keep up with the demand of our little family run business .... this is not a lost place like some may think. It is in fact a tourist attraction and valuable facility for locals. Just ask the 15,000 people that played golf, and 16,000+ people who used the cafe during our eight month season in 2019.
Since 2017, the Isle of Wight Council has been looking for bidders to take on the neighbouring Dinosaur Isle.
This has prompted fears from residents that land Browns Family Golf and Cafe sits on could be part of plans.
The land is currently leased out by the local authority.
The statement continued:
"Sadly with the future of Browns in jeopardy and no real security to be able to protect the business forward for the future the time has come for us to hang up our Aprons and retire our mowers.
"We would like to thank all of our staff for the dedication they have given us , for working with us and their continued loyalty, we couldn't have been here for as-long as we have without you all.
"To our customers that return weekly (some daily), monthly and yearly who use just the cafe or just the golf or both many thanks for supporting us.
"Lastly we would like to thank our family who have showed us endless support, worked with us and lots of love to enable us to run Browns.
"We have loved hearing all of your favourite memories of Browns over the years and we have created so many more new memories in our time. We may not have had cream doughnuts but we were still very much here alive and kicking serving home made goodness and affordable golf.
"We close our doors for the last time on September 27th with sad hearts but incredible memories. It's definitely been a journey we would never have changed in our lives and one we are glad we started and finished together side by side.
"Many Many thanks once again,
"Clare, John & Cherry".
Isle of Wight Radio has asked the Isle of Wight Council for a comment.