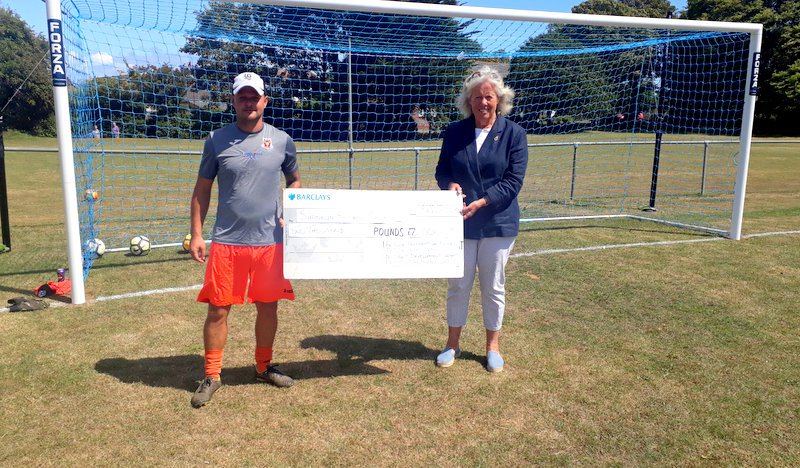 Shanklin Football Club has received a cash boost to make improvements on and off the pitch.
The Island's High Sheriff, Mrs Caroline Peel, presented club representatives with grants to help fund new goal posts, pitch improvements, provide Covid 19 safety facilities, and help develop a new youth football team.
Shanklin FC Manager, Paul Haward, said:
"It's been a difficult few months for Islanders, including those involved in sport, and these funds will help the club prepare safely for the new season, when it's safe to play again."
Club Safety Coordinator, John Shannon, added:
"We have done as much as we can within limited resources, and we will continue to monitor how we can play sport safely within the guidance. We are grateful to the FA for their support and much needed funding."
Shanklin FC have started training again, in line with FA guidance, with two senior men's sides, two women's teams, and a new youth team. There are further plans to develop the club to meet the increasing number of players wanting to join.
The High Sheriff visited the Club before the annual Training Game between past and present players, and before the FA Cup Final between Chelsea and Arsenal. The Over 30s v Under 30s game was won by the senior side, who edged out their younger counterparts on penalties.
Mrs Peel said:
"It is really heartening to see sports clubs, like Shanklin, put measures in place to enable players to play sport again - the cautious and step-by-step approach will help the club reach their goal of playing safe soccer."