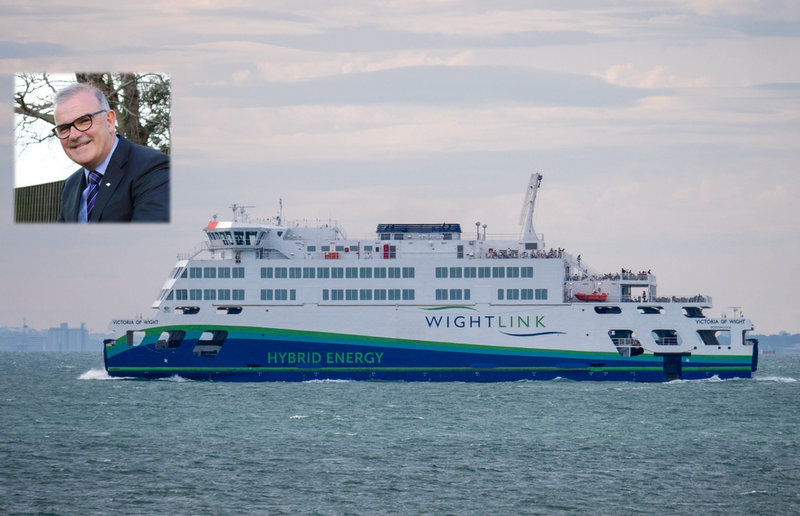 The Chief Executive of Wightlink has said the company needs 'some sort of summer' if the business is to survive - in an interview with Isle of Wight Radio.
Keith Greenfield has been speaking to Isle of Wight Radio's Jamie White about how the company desperately needs a summer, how the company has continued to operate and if we are likely to see ferry prices to increase.
Keith Greenfield Chats To Isle Of Wight Radio

Is Wightlink in danger of going bust? Will prices be increased on its services? And when will the FastCat resume? LISTEN to our exclusive radio interview with Wightlink's CEO. READ MORE: https://www.iwradio.co.uk/news/isle-of-wight-news/wightlink-boss-issues-stark-warning-we-need-some-sort-of-summer-to-survive/

Posted by Isle of Wight Radio on Wednesday, July 1, 2020
READ and LISTEN below
How Has Wightlink Coped In The Last Few Months During The Coronavirus Pandemic?
"It has been quite a story. I think our immediate concern was to ensure the Island received all the basic services it needed and key workers could travel.
"Discretionary travel dropped away at the end of March completely. The council got all the operators together to come up with a joint plan. Clearly we couldn't run all of our services. We had made big losses already and if we continued, we would've been dead and gone.
"We had to reduce services, but make sure essential travel could take place. Fortunately, at the start of June we started to see some travel restrictions lifted.
"All of our travel decisions are taken with consultation. What we need to do is play this for the long term. I imagine all operators have made significant losses, because we have. We need to grow our capacity with the demand. It is a long haul and we need to be careful how we reopen."
Does Wightlink Need A Summer To Survive?
"Pretty much. We spend millions of pounds every winter on re-fitting our ships and port maintenance. We need to build up enough reserves to fund that programme and make sure we have three routes and eight ships.
"We desperately need some sort of summer. But we think we can survive this - but we can only do this if we are careful.
"Our Yarmouth to Lymington route will be resuming on July 17.
"We would love to see all our ships out, but that isn't an approach we can take at the moment."
Are We Likely To See An Increase In The Cost Of Travel?
"I don't think so, we haven't even discussed that, no. The plan is to pretty much get back to business as usual, but it will take a long time to do that.
"We want the Island to take advantage of the 'staycation' trend which there should be for the rest of this year and into next year. We wouldn't be doing that by jacking up our prices.
"We want the Island to be a really successful destination for people staying at home from the UK. We think the Island is really well positioned to do that."
Are You Expecting July/August/September To Be Busy?
"We have seen a lot of booking activity over the last few days, after a long period of it being very low. I know there has been a big rush on the phones and we haven't been able to answer them all.
"Current booking activity is higher than it would've been at this time last year, but there is still lots of capacity for July and August. We are seeing a lot more interest in bookings, which is good news."
Is Wightlink Planning To Make Any Other Safety Changes, Such As Temperature Checks For Passengers?
"No, we aren't planning to do that. A lot of our operation is outdoors - the port, the car decks and a lot of the passenger space. We aren't confining people into a small space. We are planning to ensure social distancing is in place. People will find perspex screens, lots of signage, social distanced tables. During check-in, staff will deal from booths.
"For foot passengers in the lounges and outer decks, there is lots of space. I think we are in a good position to manage through this period.
"We have built up a lot of experience on how to operate safely during this COVID-19 pandemic."
Is Wightlink Prepared If There Is a Local Lockdown?
"Let's hope it doesn't happen. It would be very bad news for everyone. We need people to be diligent about social distancing and their contacts.
"We have operated throughout the crisis and we have experience of doing it. If we had to do it again, then we would know how to do it safely - but let's hope it doesn't happen."
Has Wightlink Had To Make Any Redundancies - Or Planning To?
"No. We have been using the Government Furlough scheme, so around over half of our staff have been furloughed. That is slowly starting to unwind now as we increase the number of sailings and services. We don't envisage having to do that.
"We hope that the future is bright at the end of the crisis. The Isle of Wight should be a popular destination, and we expect to need all of our ships and routes - we need to get to that point."
Is There A Date For The Return Of The FastCat Service?
"Not yet. We take all of these decisions in collaboration with the council and other ferry companies. The foot passenger service is being delivered by Hovertravel and there is plenty of space.
"Foot passenger travel has recovered the least of all travel. Currently, we only have about 15 per cent of normal volumes travelling across by foot and Hovertravel are more than able to service that.
"As soon as volumes go up we will keep that under review on a daily and weekly basis and put the FastCats back, but we don't have a date yet."
Do You Have a Message For Your Staff?
"I do want to thank all of our colleagues at Wightlink. They have been amazing. It has been tough. We have video updates every week. Everyone has been playing their part in helping the company survive.
"I think we all just want to get to work and I think everyone is looking forward to getting back on the water."