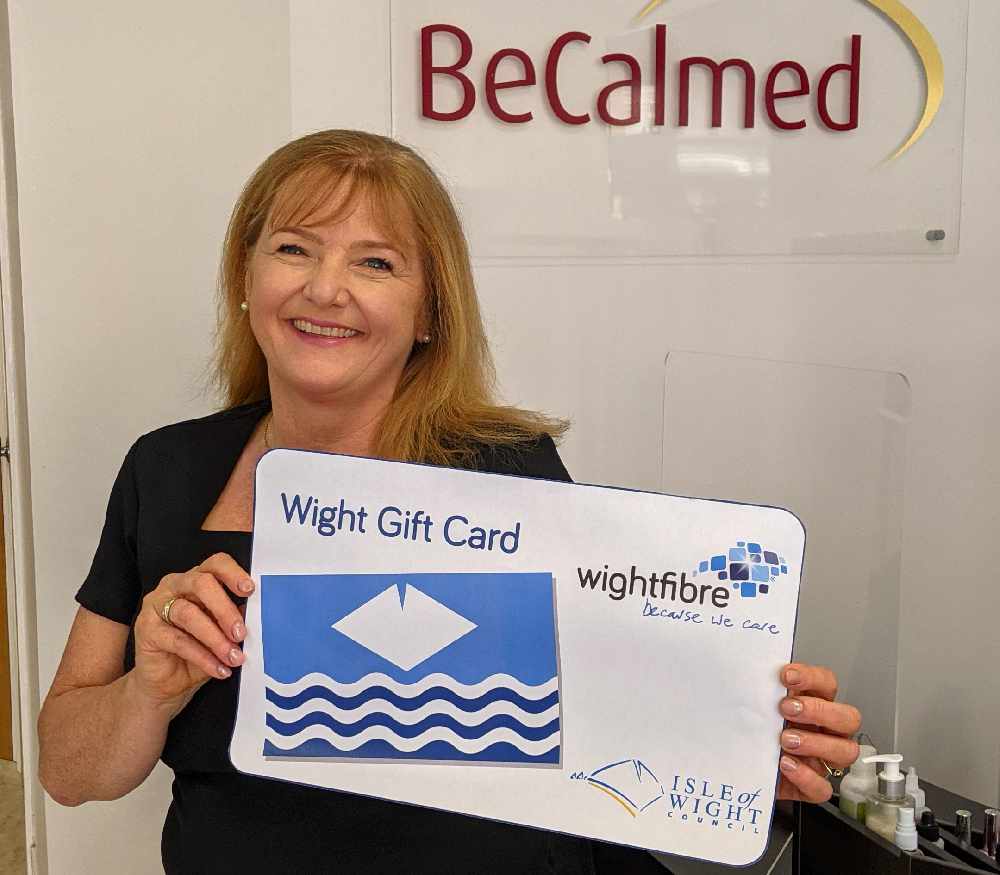 Shoppers with Wight Gift Cards are enjoying some of the Island's best brands as local shops and businesses reopen - and now there's a chance to win a free Wight Gift Card worth £100. 
Shoppers across the Island and beyond are using the Wight Gift Card to buy from over 90 Isle of Wight businesses, both in-store and online.
After a successful start selling the cards, the scheme is now starting to pay back as shoppers with a gift card start using them - getting themselves some great local bargains as well as supporting businesses as they recover from the challenges of lockdown.
Island shoppers can win a card by sharing on social media where they have spent their local gift card, liking or following 'Town & City Gift Cards' on Twitter or Facebook, and tagging the company on their photo to be put into a prize draw to win a £100 Wight Gift Card or other card of their choice.
The Isle of Wight Council's cabinet member for regeneration, Cllr Julie Jones-Evans, explained:
"I was delighted to launch the Wight Gift Card in Cowes last year, supported by WightFibre.
"Over 70 Wight Gift Cards were purchased in 2020 alone, and it is good to see how well it is going.
"The gift card scheme follows on from recent shop local initiatives on the Island such as Fiver Fest and Let's Buy Local.
"Now is the time to get out and grab some superb high street deals as our Wight Gift Card members are offering great products and services to tempt shoppers back into their shops - and online too of course.
"If you've got a Wight Gift Card, spend it and enter the competition - you could win £100!
"And if you're looking for a present to give a loved one, the card is going to be a winner for everyone.
"Seeing the Island's shops and businesses coming back to life at last is a delight, and I'm sure that the Wight Gift Card will continue to play its part in this recovery."
Caroline Hurley, proprietor of Becalmed Spa, Cowes, signed up to accept the Wight Gift Card at her business.
She said:
"We are a sports massage, holistic and beauty therapy centre. We joined the Wight Gift Card when it was first launched back in November.
"We've had quite a few sales since we reopened through the gift card with both new and existing customers taking advantage of it.
"Clients enjoy the convenience of the Wight Gift Card, and it's good to know that the money is going to support local jobs and companies."
Colin Munro is the managing director of Miconex, the company managing the Town and City Gift Card scheme.
He commented:
"Customers have taken the first step and purchased a Wight Gift Card, now is the time to spend it.
"A Town and City Gift Card like the Wight Gift Card is a piece of potential. The potential to support a small, independent business which may have struggled through the last year.
"The potential to keep money locked into where you live and the potential to safeguard jobs, livelihoods and the vibrancy of where you live.
"Your Wight Gift Card can stay in your bag, wallet or in a drawer at home, or it can be turned into drinks with friends at your local, fish and chips on the seafront, a new outfit for the warmer weather to come or a long-awaited haircut.
"Now is the time to get out and spend locally."