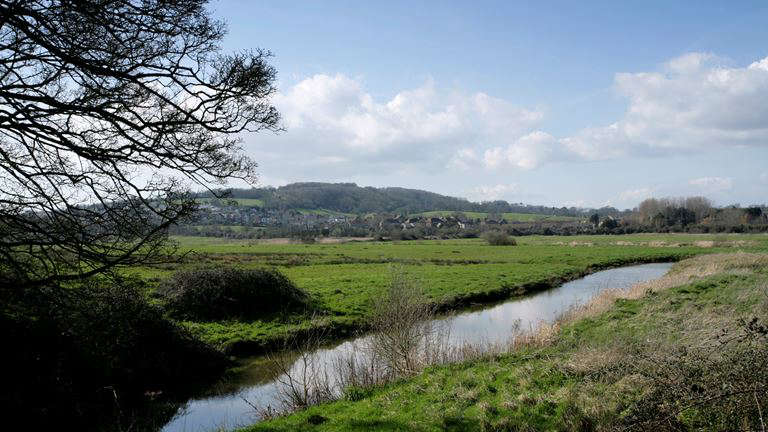 Brading Marshes
A warning has been issued after a man and his dog climbed over a barbed wire gate and disturbed nesting birds at an Isle of Wight nature reserve.
When challenged by an RSPB volunteer, the man is thought to have said "I'll do what I like", Hampshire Constabulary claims.
Police say "this attitude is incredibly disappointing and poses a threat to our wildlife".
The incident happened at RSPB Brading Marshes on the evening of Friday, May 6. Officers are investigating.
A spokesperson for the force said:
"We are urging members of the public to take extra care and caution when visiting open spaces and nature reserves on the Isle of Wight to ensure the protection of wildlife and nesting birds.
"We have a close community of wildlife lovers on the Isle of Wight, and we ask everyone to please be responsible and to familiarise themselves with the law.
"All birds, their nests and eggs are protected by law under the Wildlife and Countryside Act 1981.
"It is an offence to intentionally or recklessly disturb any wild bird listed on Schedule 1 while it is nest building, or at a nest containing eggs or young, or to disturb the dependent young of such a bird. Regardless of your intentions, if your actions are reckless then you are in breach of the law."
Contravention of the law could result in prosecution with a penalty of up to six months imprisonment, an unlimited fine, or both.
Islanders are being urged to respect the law and respect wildlife.
If you are visiting a reserve with nesting birds present, please keep dogs on leads, stick to public footpaths and keep out of restricted areas.
If you witness any behaviour that puts wildlife at risk, you can report this to police on 101 and our dedicated Country Watch team will look into the circumstances.