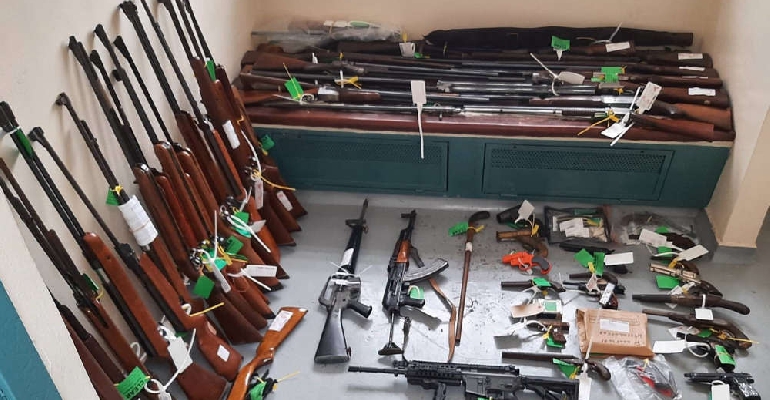 A selection of weapons turned in across Hampshire.
Five shot guns and a tranquilizer dart were among the items surrendered on the Isle of Wight, in last month's (May's) firearms amnesty.
More than 30 items were given in to Island police during the two week initiative.
The national campaign encouraged people to give up unlicensed weapons without risk of prosecution.
In total, there were 32 items surrendered on the Island. These included:
10 lots of ammunition
Tranquilizer dart
5 potentially viable shotguns
The rest were imitation firearms or air rifles
Across Hampshire, 90 'potentially viable' firearms and 50 submissions of ammunition were surrendered.
Detective Chief Inspector Dave Storey, for Hampshire Constabulary, said:
"Our key aim with the surrender was for the removal of firearms and ammunition in order to reduce overall gun harm within our communities.
"We've seen 90 'potentially viable' firearms were surrendered which is 90 less weapons to fall into criminal hands and be used during the course of serious offences.
"These deactivated weapons cannot now be reactivated. In addition, these weapons present no distinction between real and imitation firearms, which present a deadly risk to persons using them when the police respond to an incident. The AK47 and M16 being relevant examples of such weapons.
"It's really important that we continue to build on public safety by providing opportunities for the safe surrender of weapons like this and by reminding the public to check their licences.
"I wish to remind members of the public that it is against the law to be in possession of an unlicensed firearm, regardless of how you acquire it and are reminded that firearms can be surrendered to the police at any time. If anyone has any doubt, we have specially trained officers across the county who can make unlicensed weapons safe and remove them.
"The campaign has been a huge success and we would like to thank the public for their cooperation and contributions. Thankfully firearm offences remain at historically low levels in Hampshire and the Isle of Wight, but by removing more than 200 weapons, as well as ammunition, this initiative will help keep our communities safe and prevent firearms from falling into the wrong hands."