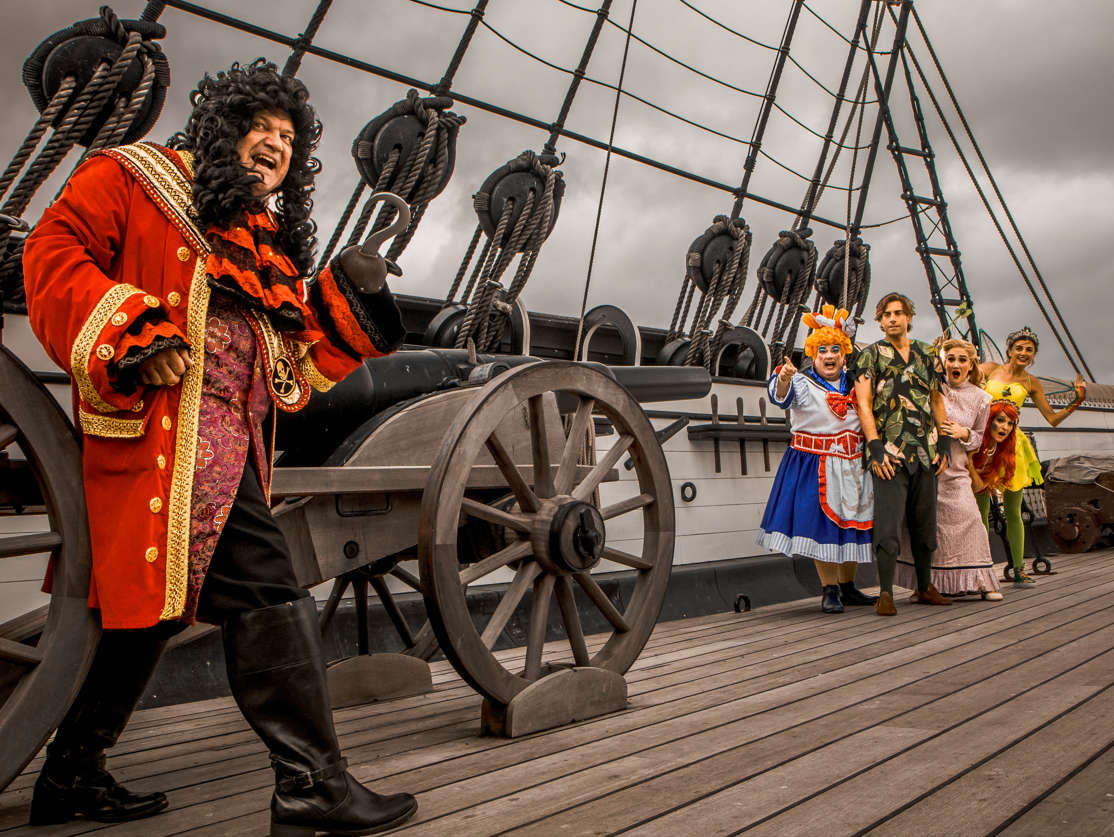 This year's Pompey Panto was officially launched onboard the HMS Warrior in Portsmouth Historic Dockyard as the cast arrived on a vintage Pompey bus!
Shaun Williamson, (Barry in Eastenders, Extras!, Barrioke) is playing the title role of Hook and James 'Arg' Argent, (Towie) is playing Peter Pan.
The stars joined regular Pompey Panto legend Jack Edwards (Mrs Smee) and cast members Julia Worsley (Mermaid) , Lizzie Rose, (Tinkerbell) and Georgia Deloise, (Wendy) on the stunning historic warship The Warrior for some fun-fuelled panto antics.
The blustery windy weather only added to the drama of the day.
Shaun Williamson is relishing the role of Panto baddie Hook having already played the role in Panto elsewhere: "The role of Hook is iconic and its an absolute pleasure to get to play this wonderfully wicked character once more. I have worked with both Jack and Arg before so I'm really looking forward to getting back on stage with them both. Pompey's panto is legendary and it's great to be back in Portsmouth once again."
James Argent is no newcomer to the Pompey Panto having played the role of Dandini in Cinderella in 2015: "I am so excited to be coming back to Pompey. Especially because this time I get to play a main character. So far, I have always played more of a side-kick role so to be able to play Peter Pan is unreal. I love Portsmouth too and its fantastic to be back at the beautiful Kings Theatre. I think this year's panto is going to be better than ever and I can't wait to get started!"
Paul Woolf - CEO of The Kings Theatre Producer, Writer: "Here at the Kings, we have a well-known commitment to high production standards, but we are also committed to being an innovative production house and this year have taken on the task of not only producing our panto for the 3rd year running but also writing this year's show. We feel we have a great understanding as to what the Pompey Panto audiences want and to that end, I am confident that we will deliver the usual magical, fun-filled Christmas spectacular that everyone has come to know and love."
Jack Edwards – Artistic Director for The Kings Theatre, Associate Producer, Writer, Actor: "This year has been an even bigger challenge here at The Kings as we have taken on the task of writing a brand-new script for a brand-new pantomime. On top of that we are once again self-producing. There is so much work and preparation that goes into getting Panto on to the stage and just to give you an idea we are already having meetings about next year's panto! But our goal is always to give the people of Pompey and the surrounding areas the best Christmas panto experience possible. And we are delighted once again that we are able to offer £10 tickets to every performance. We want as many people as possible to have the chance to come and join in with the Pompey panto fun."
The Pompey Panto Hook- The Further Adventures of Peter Pan runs from Dec 1st – December 31st at The Kings Theatre Portsmouth.