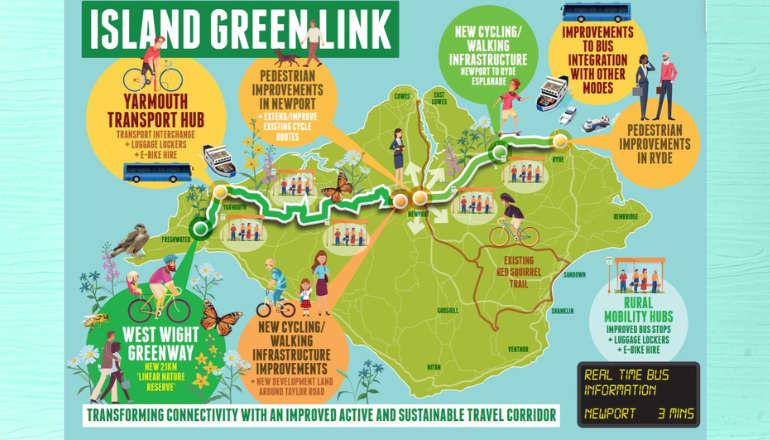 The Isle of Wight Council is set to receive more than £13.6 million in Levelling Up money as part of the third round of the fund.
The major government investment will be used to enhance travel between Ryde and Yarmouth by improving cycling, walking and bus routes while also making accessibility improvements.
Today's (Monday) announcement follows a successful bid by the council to transform connectivity between East and West Wight with an improved active and sustainable travel corridor — or 'Island Green Link' for short!
The ambitious proposals include:
Ryde - Yarmouth Public Transport Corridor
The plans include improvements to bus infrastructure along the key bus routes between Ryde and Yarmouth. This could include providing accessibility ramps, shelters, and real time information screens.
It will also involve a small number of trial 'mobility hubs' to provide space and facilities for switching easily between difficult modes of transport. This could include luggage lockers and hireable e-bikes at bus stops so more visitors and residents can easily enjoy nearby bridleways and cycleways.
West Wight Greenway
Stretching for 13 miles between Freshwater and Newport, the greenway for cyclists and walkers would mainly follow the dismantled railway line and make use of the existing rights of way network.
The route would be designated a 'linear nature reserve' and feature stopping areas and interpretation boards. It would also provide an important link to the Gunville Greenway, improving access to the rest of the Island's cycle network.
Newport Hub and Spokes Scheme
The proposal includes helping to make Newport centre more easily navigable for walkers and cyclists along with extensions and enhancements to established cycle routes such as the new Mews Lane to Newport Harbour route and Gunville Greenway, as well as small-scale infrastructure improvements.
Island MP Bob Seely said:
"I am delighted government has committed this money to the Island. I've been campaigning for the West Wight Greenway.
It is a critical link in the development of our Island's cycle routes.
"In 2021, as part of the first round of Levelling Up, the council secured almost £6 million to improve facilities in East Cowes, as well the creation of a new public square along the esplanade."