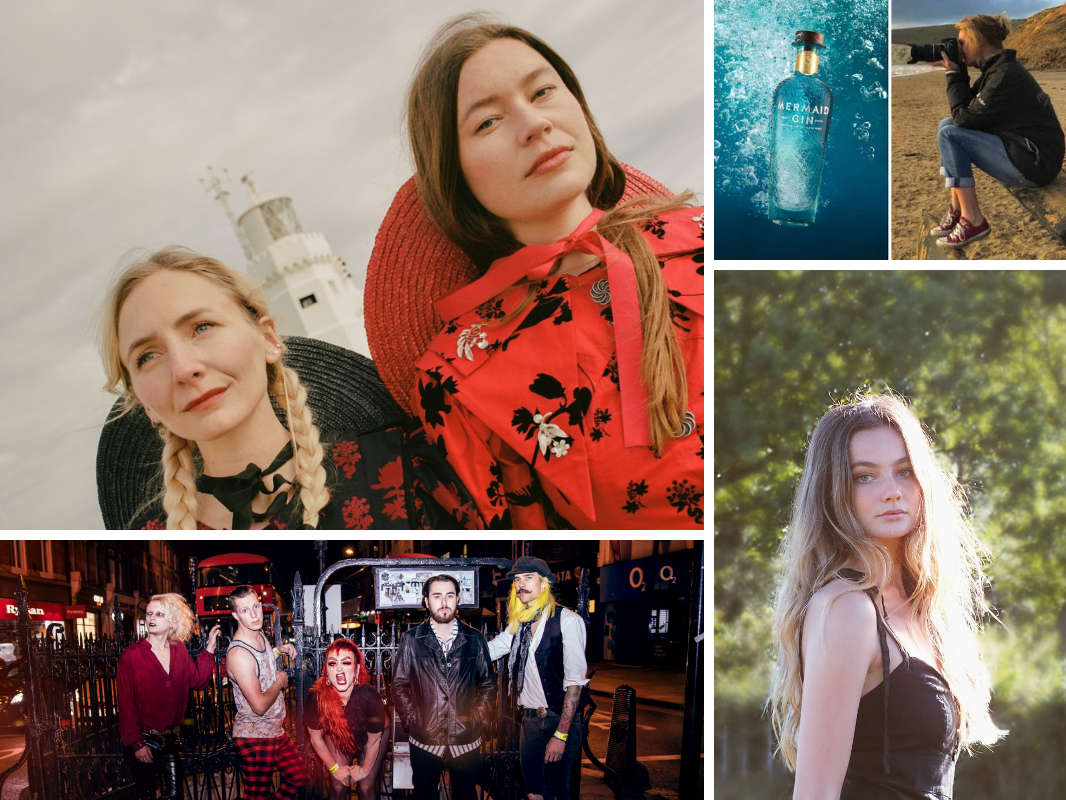 The past 12 months has seen a conveyer belt of Isle of Wight creative talent propelled into mainstream consciousness.
We decided to look at 22 Islanders within creative industries who we expect to flourish in 2022.
1. Coach Party — Emerging band

A flourishing foursome rich in satire, Coach Party's increasing popularity saw them snapped up by Domino Records in 2019.
An expanding audience led to more than 30,000 views of latest single, FLAG (Feel Like A Girl) — a resentment drenched, incandescent ode to erstwhile love.
Members of the band, who have a UK mini-tour scheduled for January, are also the entrepreneurial brains behind Newport's vegan kitchen, Peach.

2. Sepia - Acclaimed DJ
Sepia, or Theo Bennett to those who know him best, carved his reputation as a blockbusting DJ in Brighton, Bristol and… Brading!
Honing his skills on the Island, he has enjoyed extensive airtime on Radio One, gaining a far flung fanbase in countries such as Austria and Croatia.
Sepia has shared a stage with names as high in profile as James Blake and Joy Orbison and become a household name throughout UK MC circles.

3. Bobbin Dixon - Comedic compere
A highly accomplished comedian and host who has compered on some of the UK's most prominent festival stages.
The band he fronts, Bobbin and the Babymakers, has one of the highest sweat to member ratios ever recorded.
2022 promises to be another fruitful year for Bobbin, with his unique Isle of Wight tour guide and a Ventnor Fringe show currently in the works.

4. Plastic Mermaids — Music festival royalty
Colourful quintet who specialise in the unpredictable, Plastic Mermaids were once again in dazzling form on the Isle of Wight Festival Kashmir stage in 2021.
Having filled venues across the country, the Mermaids remain loyal to their roots as they hurtle towards their ninth year as a collective.
Going an extra mile for their art, a follow-up to the band's brilliant debut album, Suddenly Everyone Explodes, is eagerly anticipated.
5. Ivana Popov — Spoken word artist
Born in the Bahamas to French and English parents, Ivana somehow navigated a path to the Isle of Wight, before hitch-hiking across the globe by boat.
She didn't stay away for long thankfully, and upon her return quickly became notorious for her amusing, offbeat poems and quirky ukulele ditties, including an album of animal related tracks she occasionally dusts off at PETA meetings.
Now living in Bristol, Ivana continues to pen new material, with an inaugural poetry publication touted in 2022.

6. Charlotte Benz — Award-Winning writer
Author who received a prestigious 2019 Quilly Award for her book The Recipe For Success: The World's Leading Entrepreneurs and Professionals Reveal Their Secret Ingredients for Health, Wealth, and Success.
The book was co-written with Chicken Soup for the Soul author, Jack Canfield, subsequently becoming an Amazon best-seller.
Speaking exclusively to IW Radio, Charlotte revealed she has plans to transition into television for the new year:
"Many years ago I wrote a play named 'Creena DeFoouie' and took it to an off Broadway theatre, Edinburgh Fringe, Canada and London.
"For a long time it had been on my mind to adapt it for TV and I am finally in the process of doing that."

7. Sarah Close — YouTuber/musician

A product of Ryde School's music choir during her childhood, Sarah Close began posting covers of songs onto YouTube in the late noughties, aged just 14. Four years later she relocated to London to study music and songwriting.
Sarah released debut single 'Call Me Out' in March 2017, which charted at number one in the UK Official Physical Singles Chart, the first Isle of Wight solo artist to achieve the feat.
In addition to her success as a musician, Sarah's YouTube channel boasts more than 720,000 subscribers.

8. Sienna Anderson — Decorated photographer
Sienna was named 'Bird Photographer of the Year' and has received a British Photography commercial product award for her startling underwater Mermaid Gin image.
Sienna revealed she will be passing her wealth of knowledge to others in 2022, she told IW Radio:
"Next year I am really excited to announce I will be launching my own teaching photography courses.
"The courses, which will teach students to become familiar and confident with their cameras, will include all photography basics with the aim of students shooting in manual by the end."
9. Adam Pacciti — Filmmaker/viral content specialist

A master of the viral video, Adam Pacciti first surfaced on a national stage when releasing his Girl of My Dreams video, claiming to have been rescued from zombie apocalypse by a dazzling dame paddling around his pineal; subsequently scrawling a (deliberately indistinguishable) sketch and urging viewers to assist the search.
The publicity of more than half a million views across social media saw Adam featured on a glut of national television programmes, notably ITV News and GMTV.
A second viral endeavour, via a billboard in London pleading for a job, aligned with his increasing clout among the internet wrestling community, blazed a more enduring spotlight upon him, and he was one of the brains behind Cultaholic, a channel with more than 670,000 subscribers.

10. Danny Briggs — International cricketer
Warwickshire and England spin bowler who excelled throughout last summer's The Hundred competition to put himself in contention for England's recent T20 World Cup campaign.
Ultimately missing out, the 30-year-old has prospered since joining Warwickshire in 2020 and an England recall isn't out of the question.
A former Carisbrooke High School pupil, Danny began his cricket career with Ventnor CC, and has previously represented both Hampshire and Sussex.

11. Lauran Hibberd — Slack-pop songstress

Provocative 24-year-old slacker pop songstress heavily featured as part of BBC Music Introducing.
A blistering rendition of 'Bleugh' was screened on national TV during the Hundred last summer, while a series of festival dates have already been confirmed for 2022.
Lauran reached the festival Mecca when she appeared at Glastonbury in 2019.

12. Laura Watt — TV Producer
Having graduated from the University of Gloucestershire with a degree in Television Production, the subsequent decade has seen Laura work her way through the ranks from runner to self-shooting producer/director.

Most recently worked on high profile TV series such as Married at First Sight UK, Rich House Poor House and Filthy House SOS.
Dividing her time between the Isle of Wight and London, Laura returned to Island shores in a working capacity as part of the Red Bull TV team that created a documentary based around the Bestival.

13. Wet Leg — Trailblazing band

The past six months has seen the enthrallingly offbeat Wet Leg – fronted by effortlessly cool duo Hester Chambers and Rhian Teasdale – release four blockbuster singles, including breakout hit Chaise Longue.
The band, who will be touring Europe and the US in 2022, featured on the November 1 edition of BBC Two's 'Later... With Jools Holland' and have been named by both the BBC and Amazon Music Artists to Watch in 2022, as well as featuring on VEVO DSCVR.
The band have also been announced as ambassadors for the 2022 Independent Venue Week and — among the now seemingly daily accolades

14. Rachael Berry — Artist and prop designer
A portrait artist working in oils to create hyperrealist paintings, Rachael has been a staple of the Island's art scene for the past couple of decades.
Her visually evocative works are not only technically proficient, but also aesthetically startling.
Never afraid to explore the uncomfortable, Rachael is also the brains behind the Everyday Sketchbook social media pages.

15. Jake Scrimshaw — Promising footballer
Highly rated 21-year-old striker on Bournemouth's books.
Currently on loan at Scunthorpe United, the forward has impressed with The Irons, having opened his account with a close range bicycle kick.
⚽️📺 GOAL!@jake_scrimshaw got off the mark for the Iron yesterday with a debut goal early in the second half against Sutton. See his bicycle kick from our alternative angles.#UTI #IRON pic.twitter.com/N5smMkuQqx

— Scunthorpe United FC (@SUFCOfficial) August 22, 2021

16. Beth Brookfield — Singer/songwriter

Born and raised on the Island, the teenager's debut single, The Journey, featured on BBC Radio Solent and Amazing Radio USA following its release in November.
The singer told Isle of Wight Radio:
"I'm going to London early next year to film my first ever music video which I am so excited about and grateful to be working with some very talented people.
"I am also looking forward to doing more gigs, it would be amazing to play festivals again next year, as I really enjoyed them this year."

17. JoJo & The Teeth — Bone shaking five-some

Pulsating five-some counting three Islanders among their ranks and one of the industry's most exciting young frontwomen, JoJo O'Donoghue.
A dark and moody, forward driving sound rooted in good old fashion guitar rock and roll, conjuring an arena rock sound and spectacle.
Drummer, Andy Barker has returned to his Platform One roots regularly during the past few years to aid young musicians following in his footsteps.

18. Becky Varley-Winter — Published poet
This alluring Island born wordsmith has previously won the T. R. Henn and Brewer Hall prizes for her poetry, and been long-listed for the Foyle Young Poets of the Year and Eric Gregory Awards.
Debut release, Heroines: On the Blue Peninsula, hit the shelves in 2019, while follow-up publication Bloom was a sign of a more intimate direction.
A live appearance at Ventnor Exchange was scuppered by the pandemic, but Becky hopes to feature at the event in 2022.
19. Hannah George — Prolific comedy writer
Comedy writer who started her career in stand-up, before moving behind the camera for shows such as The Adventures of Paddington, The Dumping Ground, Wolfblood and Trollied.
One of the brains behind popular true crime podcast, Drunk Women Solving Crime, Hannah graduated with a degree in comedy from Southampton Solent University in 2009.
Her father, David George, cast her in one of her first roles when he directed 2009 gangster comedy flick Death in Ventnor.
20. Hayley Morris — TikTok and Instagram star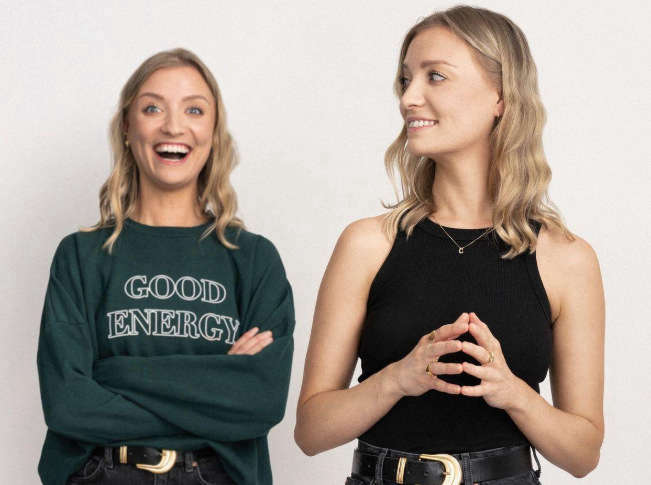 A social media sensation with thousands of fans and millions of likes on her hilarious videos, at the time of writing Hayley has more than 3.5 million followers across TikTok and Instagram.
The 28-year-old, who attended Ryde High School, started her social media channel in January after finding herself bored during lockdown.
Going viral, the St Helens resident told IW Radio:
"People do recognise me in the street, which completely blows my mind. I still think to myself, 'how do you know me?'"

21. Grade 2 — Punk Band
Punk rockers from Ryde known for their relentless live shows.
Album 'Graveyard Island' has been described as "Upbeat stripped back punk'n'roll with a bit of yobbo thrown in" by music and culture websiteLouder Than War.
New album, Graveyard Island: Acoustic Sessions, was released on Hellcat Records earlier this month.

22. Louis Checkley — Jazz Singer

An award-winning vocalist from Wroxall, Louis has carved out a niche for himself within the Brighton jazz scene with his often witty and sound infused by a piquant flavour of soul.
Steering clear of vocal gymnastics, Louis's ample range is light in tone, conversational in approach and, with an effortlessly dulcet lilt, stands out from the crowd enough to earn its place among contemporary jazz singers.
Signing with Austria's Wohnzimmer Records in 2021, Louis continues to build his burgeoning reputation across Europe.