The Top Shows You Need To Be Watching This Spring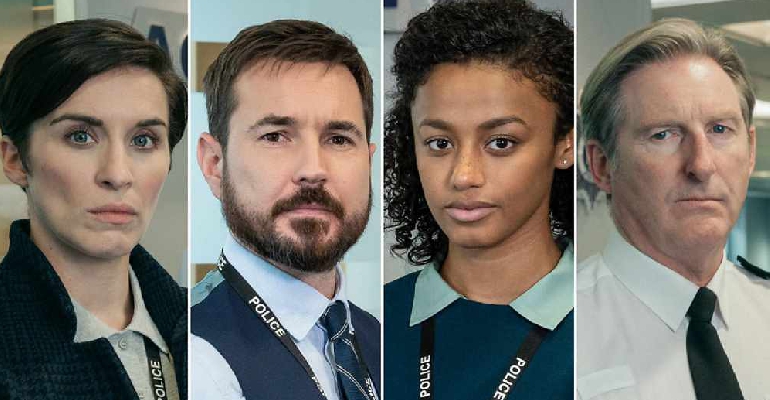 IMAGE CREDIT: BBC
After numerous delays due to global events, there's a flood of new shows on the way this Spring, and we can't wait! Here's what you need to be watching this month...
1. Line of Duty (BBC)
It's now been confirmed the sixth season of this incredible gritty police drama will return on March 21, picking up from the last season with anti-corruption unit AC-12 on the trail of a new suspect. A teaser released by the BBC suggests plenty of twists and turns when the cop show returns! All previous seasons are now available on BBC iPlayer.
Mother of God…

Mate, set your reminder for Sunday 21st March, 9pm. #LineOfDuty returns to @BBCOne & @BBCiPlayer! pic.twitter.com/YUzzx2783v

— Line of Duty (@Line_of_duty) February 27, 2021
2. Behind Her Eyes (Netflix)
A single mother enters a world of twisted mind games when she begins an affair with her psychiatrist boss while secretly befriending his mysterious wife. This limited series dropped on Netflix last month to critical acclaim. Apparently it's got an ending which is 'nothing short of shocking'!
3. It's A Sin (Channel 4)
It's taken the world by storm in the first part of 2021, so if you haven't started watching it yet, you need to quickly. Telling the tale of group of friends in London in the 80s who are thrust into the centre of the AIDS pandemic, it's a funny, witty, tragic and heart-breaking tale all at once. All episodes are now available on Channel 4's streaming service All4.
4. Bloodlands (BBC)
Starring James Nesbitt as a DCI out for vengeance, this gritty thriller shows a cold case reappearing after 20 years, when an assassin known as "Goliath" is on the loose with a connection to Nesbitt's inspector, who's wife was one of the victims. Now showing on BBC iPlayer.
5. Unforgotten (ITV)
The fourth series of this hit drama is airing on ITV all through March, with episodes available to catch up on ITV Hub, while previous seasons are also available to watch. An incredible thriller involving two detectives who solve cold murder cases from decades ago, with each season introducing a new case.
6. Vikings (Amazon Prime)
This incredible epic has just finished airing its sixth and final season internationally, and all episodes are now available to watch on Prime. The series broadly follows the exploits of the legendary Viking chieftain Ragnar Lothbrok and his crew, and later those of his sons. The first season of the series begins at the start of the Viking Age, marked by the Lindisfarne raid in 793 AD.
7. The Handmaid's Tale (Amazon Prime)
Now three seasons in, this exceptionally popular dystopian drama is now available to a UK mainstream audience for the first time! Based on the 1985 novel of the same name, the story follows a second American Civil War, wherein a totalitarian society subjects fertile women to child-bearing slavery.
8. The Bridge (BBC iPlayer)
All four seasons of this critically-acclaimed Scandinavian drama are now on iPlayer through 2021. Brutally gritty from start to finish, the premise features the body of a woman discovered in two parts on a bridge bordering Sweden and Denmark, and only goes down the rabbit hole from there. Take it from this author - this is quite possibly the best thriller you will ever see.
Read next...
Ten 'Healthy' Beverages Perfect To Buy in January

We all feel the need to live a little healthier in January, and many decide to take a break from drinking alcohol. But if you still fancy the occasional tipple during the dark nights, these low-calorie selections shouldn't steer you from the New Year diet too much...

Recipe: Garlicky Fish Stew

Enjoy this delicious and healthy fish dish that is easy to prepare and light on the stomach after all that Christmas gorging!
Comments
Add a comment
Log in
to the club or enter your details below.