Spooky Recipe: Toffee Apples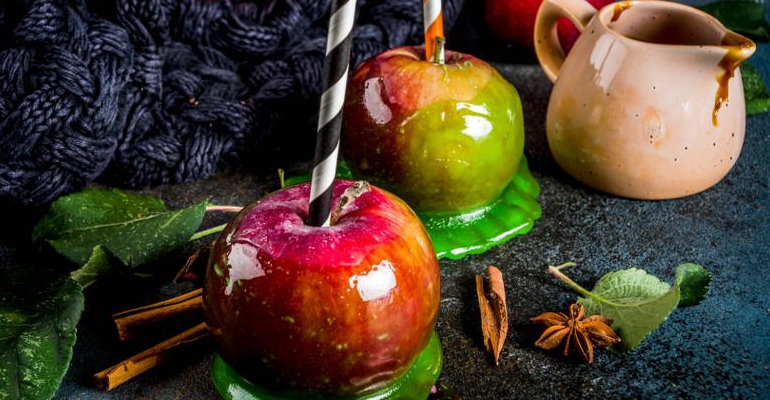 No Halloween party would be complete without some traditional toffee apples. To create these classic sticky and sweet treats, just follow this simple recipe. If you happen to have 'little helpers', be careful of the hot sugar, and don't forget to have a bowl of soapy water nearby!
Ingredients
4 eating apples
225g demerara sugar
75ml water (more if needed)
1 tsp white wine vinegar
2 tbsp golden syrup
25g butter
1. Put the apples in a large bowl and cover with boiling water – this will remove any waxy residue on the skin and help the caramel to stick. Leave them to sit for a minute, then drain and dry with kitchen roll.
2. Carefully push a lolly stick or small apple branch into the top of each apple and through the core.
3. In a medium-sized pan, add the water and sugar and heat over a medium heat, until the sugar dissolves. Once the sugar has dissolved, add the butter, vinegar and syrup. Increase the heat to moderate and bring to the boil. Make sure not to stir the caramel at any time – just swirl it around the pan gently. Test to see if it is ready – drop a little of the caramel into a cup of cold water. If ready, it will turn into a soft, squeezable ball.
4. When this has been achieved, work quickly to dip each apple into the caramel. You may need to tip the pan while rotating the apple to get an even coating. Repeat quickly with the other apples. If the mixture becomes too stiff, return it to the heat for a minute until it has softened.
5. You can now leave the apples to cool on the baking tray lined with nonstick baking paper or immediately after the apples are dipped, sprinkle them with chopped nuts, small chocolate drops, sesame seeds or whatever suits the age group and occasion!
Comments
Add a comment
Log in
to the club or enter your details below.