Festive Recipe: Sara's Yule Log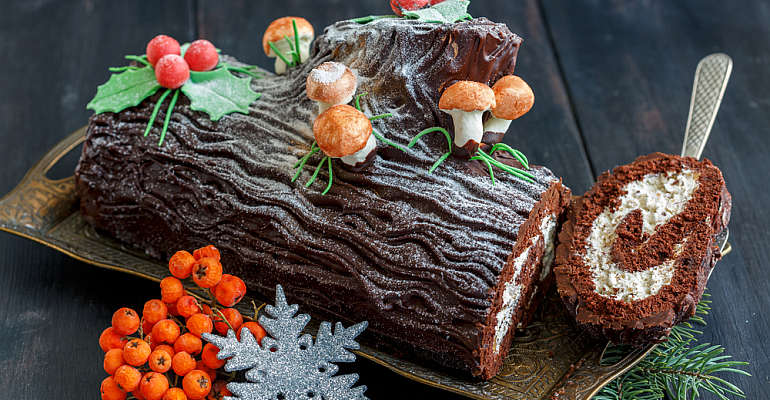 Nothing beats the festive scene of a snow-dusted chocolate yule log - a decadent treat and a super alternative to the traditional Christmas cake...
SERVES: 12
INGREDIENTS
For the cake:
6 large eggs, separated
150g (5oz) golden caster sugar
50g (2oz) cocoa powder
1 tsp vanilla extract
300ml (10fl oz) double cream
425g (15oz) tin pitted black
cherries in syrup
Icing sugar to decorate
For the icing:
175g (6oz) dark chocolate, chopped
250g (9oz) icing sugar
225g (8oz) soft butter
1 tbsp vanilla extract
METHOD
Preheat the oven to 180C/160C fan/gas mark 4.
Whisk the egg whites in a large bowl until thick and peaking, then sprinkle 50g (2oz) of the caster sugar in while still whisking and whisk until definite peaks appear.
In another bowl whisk together the egg yolks and remaining sugar until you achieve a thick, pale, moussy consistency. Sieve in the coca powder, add the vanilla extract and fold together.
Add a couple of dollops of the whites into the yolk mixture and fold in vigorously to lighten the mixture. Then fold in the rest in batches carefully to avoid losing the air.
Line a Swiss roll tin if you have one, or a large shallow baking tray with baking parchment, and pour the mixture in, making sure to spread it to the sides.
Bake for 20 mins then cool before turning out onto another piece of baking parchment, dusted with icing sugar to help prevent sticking.
For the icing, melt the chocolate in a bain-marie or the microwave and leave it to cool while you blitz the butter and icing sugar to a smooth paste. Add the cooled chocolate and vanilla extract and blitz again for a smooth icing.
Spread a thin layer of the icing onto the cake, then whip the cream and spread on top and add as many cherries as you see fit. Then gently roll from the longest side, if you have one, making sure to get a nice tight roll all the way. Don't worry if the ends are a bit raggedy as you will chop these off to create the branch.
Using a sharp knife cut off each end at a gentle angle and position to form a branch off the main log. Spread over the rest of the icing and using a fork create a wood effect, remembering to swirl in some knots.
Sieve over icing sugar and add some festive holly or pinecones, or even a robin!
Comments
Add a comment
Log in
to the club or enter your details below.