Autumn Recipe: Hearty Beef And Pumpkin Stew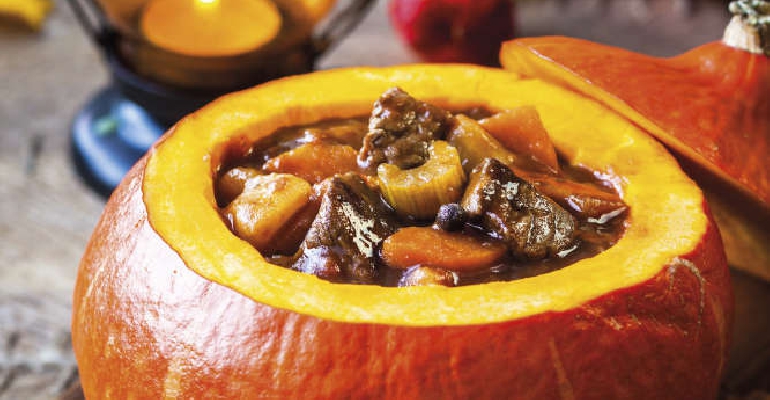 This is the perfect, homely dinner to look forward to as the autumn nights draw in. Adele Trathan explains how to make this delicious casserole that is baked and served straight from the pumpkin...
Serves: 4
INGREDIENTS
4 small sugar pumpkins (approximately melon sized)
500g (18oz) beef stewing steak, cut into 2.5cm (1 inch) cubes
3 tbsp vegetable oil
200ml (7fl oz) water
2 large potatoes, peeled and cubed
2 carrots, sliced
2 celery stalks, sliced
1 green pepper, chopped
2 cloves garlic, finely chopped
1 onion, chopped
1 (400g) tin chopped tomatoes
1 tbsp beef stock granules
Salt and ground black pepper
METHOD
Heat one tablespoon of the oil in a large saucepan over a medium to high heat. Place the beef in the saucepan and cook until evenly brown. Mix in the water, potatoes, carrots, green pepper, celery, garlic, and onion. Season well with salt and pepper. Bring to the boil, then reduce the heat to a simmer and cover with a tight-fitting lid for approximately 2 hours.
Dissolve the beef stock granules into the beef mixture, then add and stir in the tomatoes.
Preheat oven to 170C/350F/ gas mark 3.
Cut the stalked top off each of the pumpkins in a circular shape to make a lid for the pumpkins when they are baked. Scoop out all the seeds, leaving just the flesh. Place the pumpkins in heavy baking tins. Fill each pumpkin with the beef stew, to within an inch (2.5cm) of the top, which allows space for the pumpkin juices to seep into the stew. Brush the outside of each pumpkin with the remaining oil.
Wet each of the pumpkin stalks then wrap the stalk with tin foil to prevent burning when cooking. Replace the pumpkin lids back on each respective pumpkin then bake in the preheated oven for 1 to 1ó hours or until tender.
Serve the pumpkins with some rustic bread for a seasonal, tasty and hearty meal.
Comments
Add a comment
Log in
to the club or enter your details below.