Autumn Recipe: Caramelised Rum Bananas With Ice Cream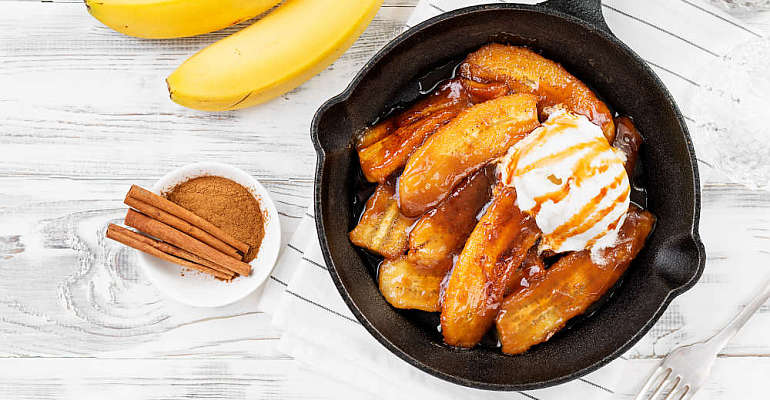 This simple and quick dessert by Adele Trathan can be made two ways; on the stove, or over a hot barbecue if dining al fresco. Keep it in mind for a swift and spectacular sweet treat requiring minimum time investment...
Serves four
INGREDIENTS
4 ripe bananas (not overly ripe/brown), peeled cut in half lengthways
50g (2oz) butter 100g
(4oz) caster sugar
Pinch of grated nutmeg
½ tsp ground cinnamon
2 tbsp rum 160ml
(5fl oz) coconut cream
Ice cream to serve
METHOD
1. Melt the butter and sugar together in a large skillet or frying pan over a low to medium heat, before adding the nutmeg and cinnamon and stirring the syrup mixture until the sugar is dissolved and beginning to bubble. Continue to simmer and stir for about another two minutes.
2. Add the banana pieces, tossing them in the syrup and coating all sides of the bananas. Continue to simmer until they are caramelised and golden.
3. Add the rum and turn the heat up, gently swirling the pan to warm the rum, which should flame with the heat. This will remove most of the alcohol content and leave the luxurious rum flavour intact. Continue cooking until the flame dies out then pour in the coconut cream and stir to combine.
4. Serve two banana portions per person with a good scoop of ice cream and generous drizzle of the rum sauce. Sweet!
Comments
Add a comment
Log in
to the club or enter your details below.