WIN A TRIP FOR YOUR CLASS TO THE ISLE OF WIGHT AQUA PARK
Win a trip for the whole class!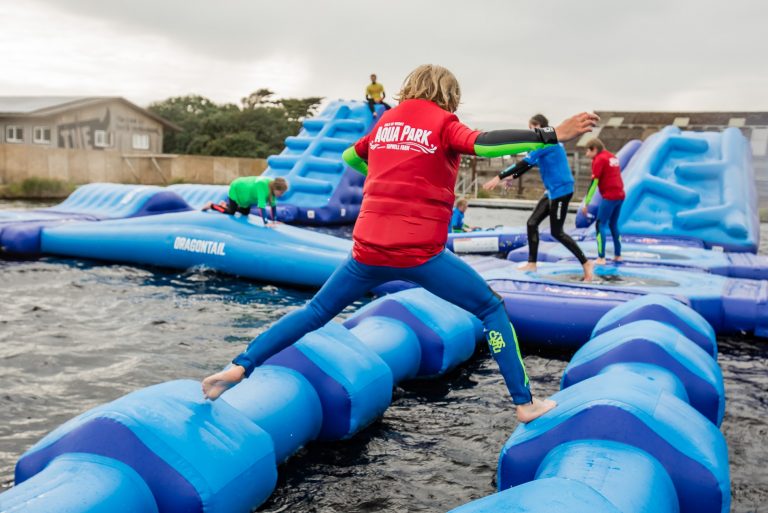 We have the ultimate prize for your school. Win a class trip to the incredible Aqua Park at Tapnell Farm. It's The Isle of Wight's bounciest and wettest attraction is here! Over 20 obstacles to tackle, with plenty of giant free-fall slides and fun (but challenging!) elements to explore!
To win, record a short song or limerick about why you should win this MASSIVE PRIZE and send it to us - one lucky entry will win a trip for up to 40 including teachers.
The Isle of Wight Aqua Park from Tapnell Farm on Vimeo.
ENTER HERE:
Information for schools

Great fun for all abilities from the age of 7 years plus.
The team at Isle of Wight Aqua Park has many years' experience coaching young people and will
ensure an enjoyable and safe session for the whole class.
The sessions are led by Lifeguards trained to national standards (RLSS) and wetsuits and buoyancy
aids will be provided for all taking part.
Onsite facilities include toilets and showers, and there are also separate changing areas.
Teaching staff / leaders are welcome to visit Isle of Wight Aqua Park in advance of the session to
view the facilities (by appointment).
Risk assessments will be provided.
For further details about school visits please see:https://tapnellfarm.com/play/aqua-park/groups-and-schools
The Prize
The IW Radio and Tapnell Farm Schools competition prize is for one class of up to 40 (students and teaching staff) to enjoy a free session at Isle of Wight Aqua Park on Friday 16 July from 1.30pm – 3.30pm
Transport to and from Isle of Wight Aqua Park is the responsibility of the school.
No cash alternative will be given.
Judges decision is final