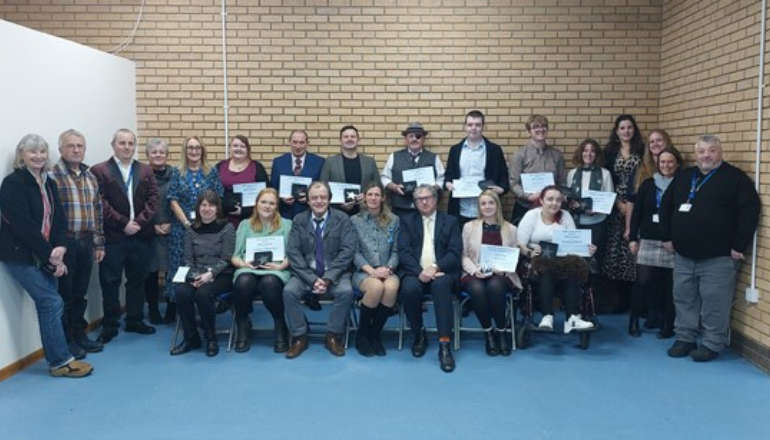 Successful adult learners who completed courses with the Isle of Wight Council were celebrated at an awards evening.
The Adult Community Learning Service handed out 14 awards, recognising the achievements of people across a range of subjects.
The awards evening, held at Westridge, Ryde, is part of the National Festival of Learning.
It was an opportunity to share the stories that showcase the achievements of Islanders who have completed courses with the council's Adult Community Learning Service and its partners.
The awards were presented by Dawn Haig-Thomas, High Sheriff for the Isle of Wight.
Cllr Jonathan Bacon, Cabinet member for children's services, education and corporate functions, said:
"I was greatly inspired by the real range of learning people have undertaken and the impact it has had on people's lives, their families or their communities.
"Everyone who won an award should be proud of what they have achieved and I hope that these achievements will inspire others to give learning a try, whether it be for work, to help others, hobbies or purely out of interest.
"I would like to thank all the friends and families of the award winners who provided support and encouragement."
A special award, the Laura Groves Award for Community and Family Involvement, presented in memory of former Downside Middle School teacher Laura Groves, was won by Newport CE Primary School's Rosie Sales.
It was presented in recognition of her empathy and support of children and families, creating positive relationships that make a difference.
A highly commended award in this category was awarded to Jane Gilbraith of Cowes Primary School.
Other winners included:
Learning within the Family Award was presented to John Wiggins who attended a Families Living and Learning Together course with his grandson and shared his life experiences which had positive impacts on the whole class.
A highly commended award in this category is awarded to Tammy Hall-Patterson.
Learning through Functional Skills Award was presented to Stephen Cart. Stephen initially questioned why maths was relevant to his everyday life, but once he started making connections to practical applications he stated to enjoy maths, doing extra study at home.
A highly commended award in this category is awarded to Nathan Bridger.
Learning Through Multiply, a national numeracy project. This award was presented to Carolyn Holland who joined a maths class at her local school in order to support her children. Carolyn grew in confidence and her sheer determination enabled her to achieve her level 2 qualification.
A highly commended award in this category is awarded to Jasmin Callan-Ford.
Learning through Technology award was presented to Phil Norris who completed the 4P's training programme with Vectis Radio and was able to fulfil a dream of hosting his own radio show.
A highly commended award in this category is awarded to Rachel Longson.
Learning for Work award was presented to Samuel Wilkins. Samuel attended Bodster Equine Assisted Learning Centre where he made amazing progress, gaining two qualifications, the confidence to attend interviews and obtain a job and he began driving lessons.
A highly commended award in this category is awarded to Kai Davies.
Learning for Personal Achievement award was presented to Zack Ince. The council's No Barriers team suggested Zack complete the 4P's training school at Vectis Radio, where he learned skills to produce and present radio shows and podcasts. Zack found this opportunity exciting and a great boost to his health and well-being.
A highly commended award in this category is awarded to Victoria Griffiths.