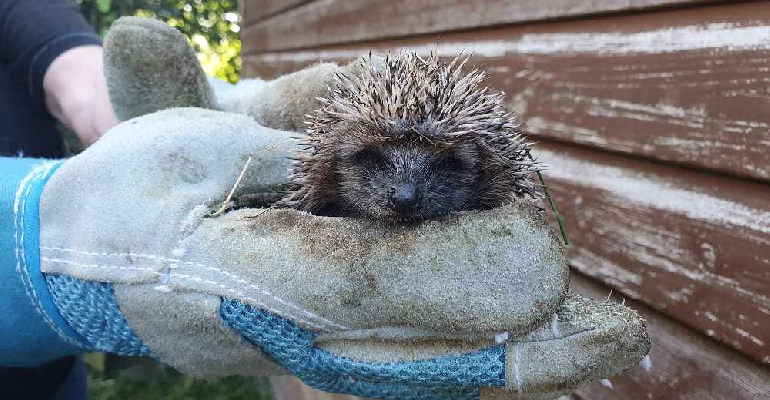 Hedgehog
Three week old hoglets born at the Island's hedgehog hospital have been exclusively unveiled to Isle of Wight Radio.
Scroll for an exclusive video of the baby hedgehogs...
The parents of the hoglets were rescued by the Isle of Wight hedgehog charity then looked after by Islander Jacquie Wilson. For 20 years she has run the 'hedgehog hospital' in Seaview and nursed more than 600 hedgehogs back into the wild.
Dad (Quinten) and mum (Penny) were both rescued and put in the same enclosure "deliberately", in the hope that they would breed.
Around 35 days later Penny gave birth to triplets - two boys and a girl.
At eight weeks old the hoglets and when they are of a satisfactory weight - they will be released into the wild or given to the Isle of Wight Zoo.
Jacquie told Isle of Wight Radio:
"I have a list of people who want hedgehogs in the garden and I have to check out all the gardens to make sure they are safe - not near badger sets, not too near a main road, that they haven't got ponds they could fall into - there's quite a lot to check."
She added they have had "more hedgehogs this year than ever".
WATCH: Isle of Wight Radio meets the hoglets!
Jacquie also advises Islanders to leave out a bowl of water for hedgehogs, so they can continue to thrive on the Island.
If you need help with a hedgehog you fear is in danger - you can contact Save Our Hedgehogs Isle of Wight via their Facebook Page here.
Will Taylor from the charity expressed one plea for Islanders:
"The worst thing to see is when they have been poisoned with slug pellets -the compound in that is called metaldehyde (which is looking to be a band) and it causes them all sorts of distress. They vomit, their heart rate races and they lose all their coordination - it is an awful death.
"They don't eat the slug pellets they eat the slugs - if you encourage the existence of hedgehogs they will eat the slugs anyway!"
Scroll through photos of the hedgehogs here...