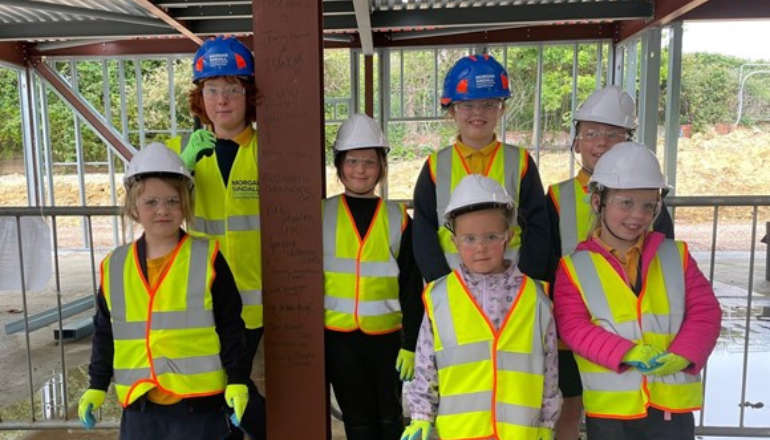 Pupils and staff from Yarmouth CE Primary School attended a steel signing ceremony for their new school building, which is due to open next year.
The children made their mark by signing their names on the steelwork in the new school hall.
After donning hard hats and hi-vis vests, the group were able to go on site for a behind-the-scenes tour of the £5 million school being built on the site of the former All Saints CE Primary School in Freshwater.
The visit enabled the children to see some of the features of their new school first hand as well as learn more about the construction process during a Q&A session with Paul Clarke, site manager, from Morgan Sindall Construction.
Elizabeth Grainger, head teacher, said:
"It's lovely for the children to be involved because there has been lots of talk about the work and they are very excited to see the changes."
"My amazing leadership team and I look forward to making this school a safe place, a happy place, a place of deep learning, a place of growth, a place to thrive, a place for the future."
The new single storey school will include seven classrooms, design and technology suites, a larger indoor hall and enhanced sports provision.
The project is being jointly funded by the Isle of Wight Council and the Department for Education (DfE) through its Priority School Building Programme.
The estimated completion date is early 2023 with pupils and staff moving to their new premises later that year.
Clifford Kinch, area director for Morgan Sindall Construction, added:
"We're so pleased to be celebrating this exciting milestone for the development of the new Yarmouth CE (VA) Primary School. It also gave us a great opportunity to show the pupils how their new school is being built.
"Creating inspiring educational spaces is a key part of what we do and we're proud to be delivering these facilities on the Isle of Wight for local staff, pupils and parents to enjoy.
"We look forward to continuing our collaborative working relationship with all stakeholders on this project through to successful completion."