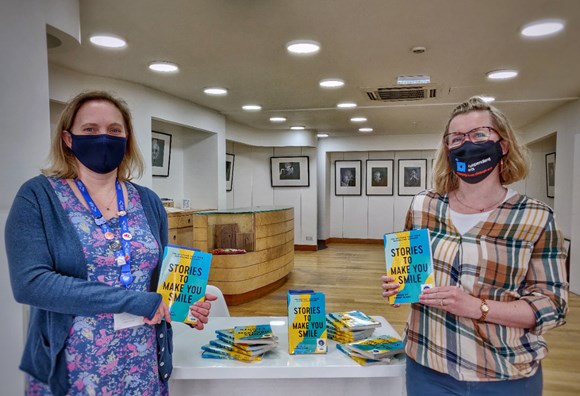 Lord Louis Library supervisor Jo Cooke handing books to Amy, the community hub co-ordinator at Independent Arts.
Free, feel-good short stories have been handed out across the Island - thanks to the Isle of Wight's Library Service.
The service gave out 160 copies of 'Stories to Make You Smile' — described as "a seriously entertaining collection of feelgood stories guaranteed to put the smile back on your face" — as part of the annual World Book Night celebration.
All six Isle of Wight Council libraries had copies of the specially commissioned anthology to give away to their local community to inspire people to discover, or rediscover, the joy of reading.
Written by ten bestselling novelists, the book includes short stories by Jenny Eclair, Vaseem Khan, Richard Madeley and Mark Watson.
From a hilarious race against time to a moment of unexpected eavesdropping, from righting wrongs in rural India to finding joy in unlikely places, the ten stories are all rich in wit and humour.
Louise Emery, senior library and information assistant, said:
"With the intention of reaching outside of their usual library communities each library found new and innovative ways to get more people across the Isle of Wight reading."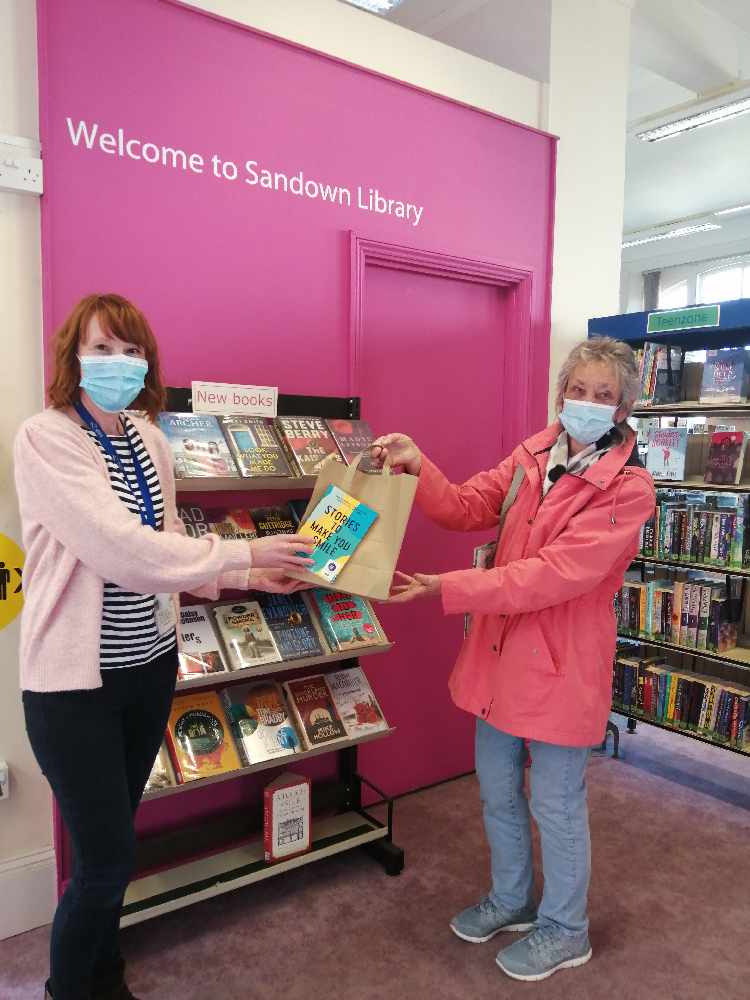 Sandown Library senior assistant, Louise Emery, handing books to Val Lee, a member of Operation Shoebox (aka the Smile Club).
Lord Louis Library, Newport, shared their copies between Independent Arts' Anxiety Café and the Congregational church in Pyle Street to share with their food bank customers and wider community.
At Sandown Library, books were given to Free Food in Sandown as well as 'Operation Shoebox', aka The Smile Club, who send shoeboxes of goodies to troops on duty overseas.
Freshwater Library gave books out at The Gouldings and to the parents of local primary school children, while at Cowes copies were given to library customers to share with others.
Ventnor Library plan to share their books with the local anxiety café and the town's Baby Box group, while Ryde Library hope to host a pop-up library at the local farmer's market in September, subject to COVID restrictions.
Meanwhile, 'Stories to Make You Smile' can also be downloaded as a free e-book or audio book by visiting: https://www.simonandschuster.co.uk/books/Stories-To-Make-You-Smile/Fanny-Blake/9781398505797
Islanders are also reminded to check out the Isle of Wight Libraries Facebook page for all their other World Book Night fun, including staff reviews and readings from the books that make them smile.