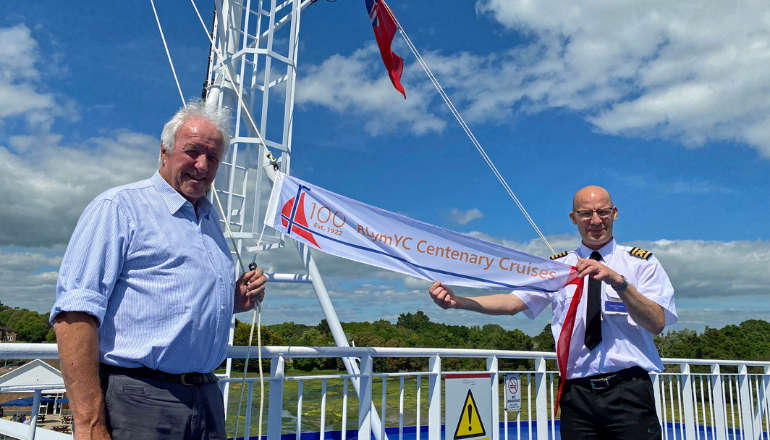 Steve Harridge from the Royal Lymington Yacht Club joins Captain Phil Husband to hoist the Club's pennant on the mast of Wight Light.
Wightlink's ferries linking Lymington with Yarmouth are flying the pennant of the Royal Lymington Yacht Club tomorrow (Saturday) to mark its centenary.
Club members will mark the occasion on this summer Regatta Day.
The Club was founded in 1922 and originally based in a disused coastguard boathouse.
It gained Royal patronage in 1925 and its name changed to the Royal Lymington in 1938. HRH The Princess Royal is the current patron.
In a message to the club published on its website, Hey Royal Highness writes:
"The Royal Lymington Yacht Club is one of the most active 'Royal' Clubs founded in the hopeful days after the first World War.
"Since then, the club has gone from strength to strength, promoting racing, cruising and social events as more members joined.
"I send you my very best wishes for your Centenary in 2022."
The pennants are flying next to the Red Ensign on the masts of Wightlink's ferries Wight Light and Wight Sky as they cross the western Solent making up to 15 round-trips a day.
"We have been friendly neighbours on the Lymington River for 100 years," says Wightlink Chief Executive Keith Greenfield. "We are delighted to join the celebrations by flying the Club's pennants and hope everyone has a wonderful time over the anniversary weekend."