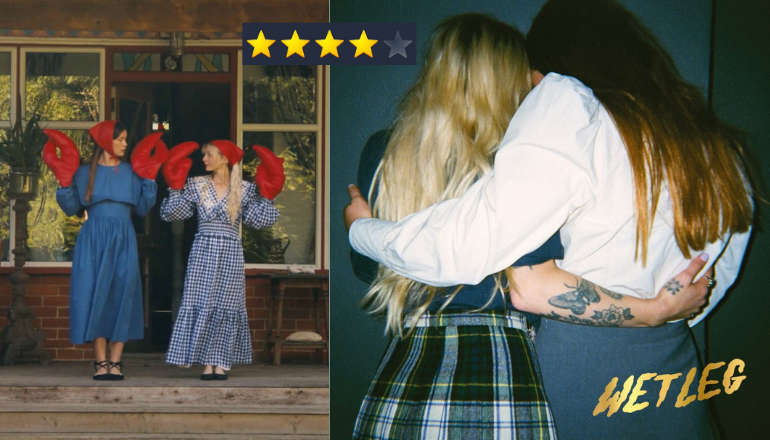 Globetrotting Isle of Wight band Wet Leg will officially release their long-anticipated eponymous debut LP next week.
The 12-track album is available for public consumption on Friday April 8.
The release kicks off with 'Being In Love', a provocatively potty-mouthed ode to romance, which provides a leisurely initiation.
The album's zenith arrives hot on its heels — breakout single 'Chaise Longue' still fresh after more than nine months of airplay.

Replete with innovative cadence and iconic inward-facing lyrics, the track probes: "Would you like us to assign someone to butter your muffin?" in homage to the film Mean Girls.
Recent single release 'Angelica' is another highlight with its tantalising bridge bursting through the deliberate malaise which bookends it.
Entrenched within the commotion, Wet Leg acts as a eulogy to other generations of musical peers, most notably courtesy of 'Don't Wanna Go Out', a song driven by subtle undertones of David Bowie's 'Man Who Sold The World'.
The placement of the risqué 'Wet Dream' triggers a welcome second wind for the LP following back-to-back leisurely cuts, and utilises the girls' gift for locating mirth in the mundane.

The concise, impactful track is second only to Chaise Longue in anthemic potential.
Ur Mum is another moreish cut which focuses on Rhian's desire to stretch beyond her hometown's claustrophobic borders.
The album's most acerbic offering is a grower which seductively meshes pop culture references and tongue-in-cheek vitriol.

Other highlights from the LP include the Sweet Home Alabama-lite baseline pumped out by 'Supermarket' and closing track 'Too Late Now' — one of five Wet Leg singles so far released.
The latter sees Rhian in fine fettle, waxing lyrical about her "shaved rat" while spraying dating app references around with gleeful abandon.
Wet Leg the album is a release rich in memorable music and one bursting at the seams with anarchic spirit.
The final word
Rhian and Hester continue to live up to escalating hype on both sides of the pond with an edifying and satire-rich debut launch.
⭐⭐⭐⭐