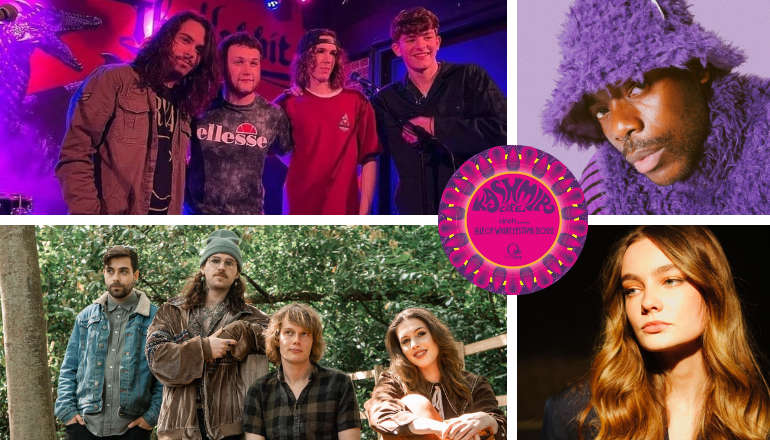 The Kashmir Café has long provided a stage for musicians both on and off the Island, becoming a staple of the Isle of Wight Festival weekend.
This year is no different, with a litany of talented performers lined up to grace the popular venue.
Kashmir Cafe is a firm favourite with regular IW Festival goers, programming a cross-section of the best emerging music from across the UK and beyond, with all profits going to Isle of Wight charity Quay Arts.
We've had the privilege of receiving the thoughts of Kashmir Cafe talent booker, musician and music curator, Doug Alldred, about this year's event.
He told IW Radio:
"We've played host to artists from (places such as) Holland, Canada and New York, and given a leg-up to some great talent along the way.
"Island success stories like Coach Party, Lauran Hibberd, Plastic Mermaids, and of course Wet Leg, all had formative sets on our stage.
"If you're at the festival this year, make sure you drop in for a pint of our famous cherry beer or Isle of Wight real ale."
Six of the best Kashmir Cafe acts for 2022
Isle of Wight Radio's Dominic Kureen has selected half a dozen Kashmir Cafe acts to look out for — three from the Island and three from further afield — and we've asked Doug to share his thoughts on them...
Luna Carina

Luna Carina are an experimental indie/dream-pop project from the Island with a swelling fanbase.
Doug says: "This is a really interesting collaborative project from some well-established Island musicians — I'm looking forward to their performance"
Beth Brookfield

Prodigiously talented teenage singer-songwriter who triumphed at the recent Wight Noize competition to perform on the main stage and has a good chance of being the Island's next breakout star.
Doug says: "Beth is going from strength to strength — It's been great to see her grow as a performer. She could go far, especially after her main stage appearance this year."
Now Only

Alternative rockers ideal for the intimate setting, this quartet promise to provide one of the highest octane sets of the festival.
Doug says: "Who said rock and roll is dead? We've got some great performers on this Island and Now Only are earning their chops on the pub and venue scene."
Mauvey

Mauvey is a Ghanaian born and UK raised artist and songwriter who endeavours to spread a message of love. A Kashmir Cafe coup following performances at SXSW and BBC Radio 1's Big Weekend.
Doug says: "This guy splits his time between the UK and Canada. We got him to come and debut with us in 2021 and it was such a compelling show he's back again this year. With appearances at SXSW and a headline tour under his belt this is an act not to miss."
Don't Problem

Eight-man horn outfit from South East London taking the brass band genre in a new direction.
Doug says: "This band has been on my wish-list for years and it's really exciting to finally get them to our stage. Expect brass band mixed with grime and 'grindcore' and pretty much everything in between."
Martha St. Arthur

Martha St Arthur is a UK recording artist and songwriter who, under the previous name Martha Paton, released two critically acclaimed EPs.
Doug says: "Martha is such a good find. Great songs, amazing voice. One of just a few of the hundreds of acts who have come through our stage over the years who has earned a permanent place on my playlist."
The final line-up and times will be announced shortly via the Kashmir Cafe Facebook page.