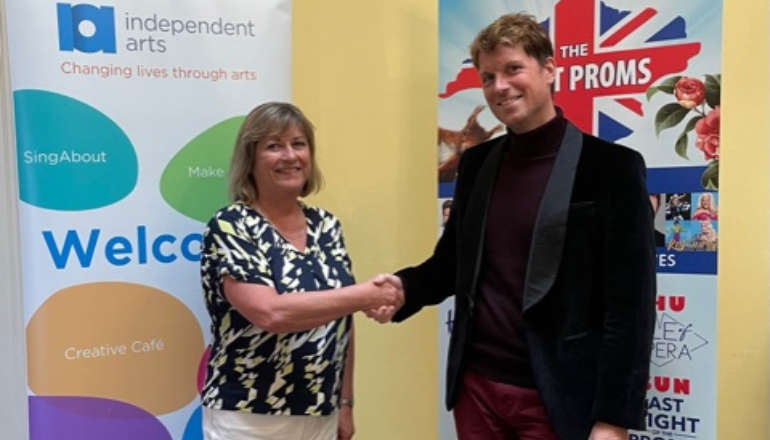 Independent Arts Chief Executive Lisa Gagliani MBE and Wight Proms founder Mike Christie
Cowes singer and composer Mike Christie has agreed to be an ambassador for Island-wide wellbeing charity Independent Arts.
The musician, who organises Wight Proms and performs as part of the vocal group G4, is an enthusiastic advocate of singing, which he has done since the age of eight years old.
The role of ambassador aims to raise the profile of Independent Arts and is based on an agreement which initially lasts for two years.
Of the appointment chief executive, Lisa Gagliani MBE, said:
"We are incredibly grateful to have Mike on board in an official capacity which also recognises how aligned he is to our mission.
"Singing is just one of the art forms Independent Arts uses to help build communities across the Isle of Wight."
Since 2018 Independent Arts has been a charity partner to Wight Proms, attending with staff and volunteers to assist with the audience welcome across the various evenings.
Mike added:
"I am honoured to become an ambassador for Independent Arts.
"When I founded the Wight Proms festival in 2018, I asked them to become our associated charity, as there is a natural synergy.
"Independent Arts is an absolute lifeline to so many who are isolated and makes a vital difference to their lives."