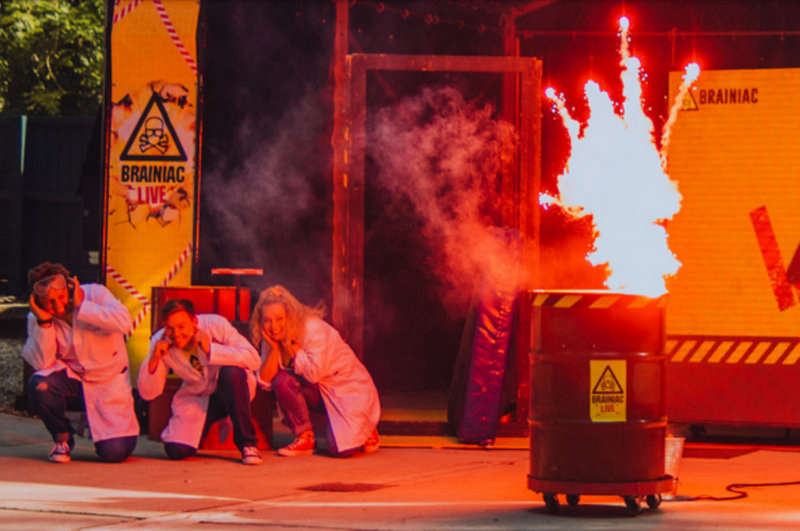 Robin Hill is presenting a host of family-friendly activities to kick off the summer with a bang.
From the July 25 – August 26, the 88-acre attraction will welcome internationally renowned illusionist, Sean Alexander, for an evening spectacular of grand illusion, featuring mind-blowing tricks, as seen on TV, every Tuesday and Thursday!
Celebrity fans of the infamous 'Confusionist,' such as Piers Morgan, have declared the show to be the 'Best Magic Ever!'
The team at Robin Hill will also welcome back the explosive Brainiac daredevil scientists from the July 26 – August 25 every Tuesday, Wednesday, and Thursday evening for even more whacky science experiments for this year's show.
Strap on your safety goggles and hold on tight as the Brainiacs unleash the weird and wonderful world of science with live stunts, explosions and all the experiments you're not allowed to do at home at Brainiac Remixed.
Fancy yourself as the next top forensic detective? Solve the clues using hi-tech forensic science, examine fingerprints, analyse footprints, and decipher the ransom notes to uncover the truth at the Brainiac Detective Academy every Tuesday, Wednesday and Thursday this summer.
Events Manager, Verity Godwin, said:
"What an EPIC Summer we have in store this year! As we take our entertainment offering from strength to strength, this year will definitely not disappoint!
"We are hugely excited to welcome back the Brainiac team for their brand new show, plus give our guests the opportunity to put their detective hats on in the Detective Academy.
"If that wasn't enough, internationally renowned illusionist Sean Alexander (The Confusionist) will be joining us as the showstopper residency over the Summer for all to enjoy - this is definitely an act for our visitor's diaries and both offerings make a fantastic one-stop-shop for a holiday on the Isle of Wight this Summer 22!"