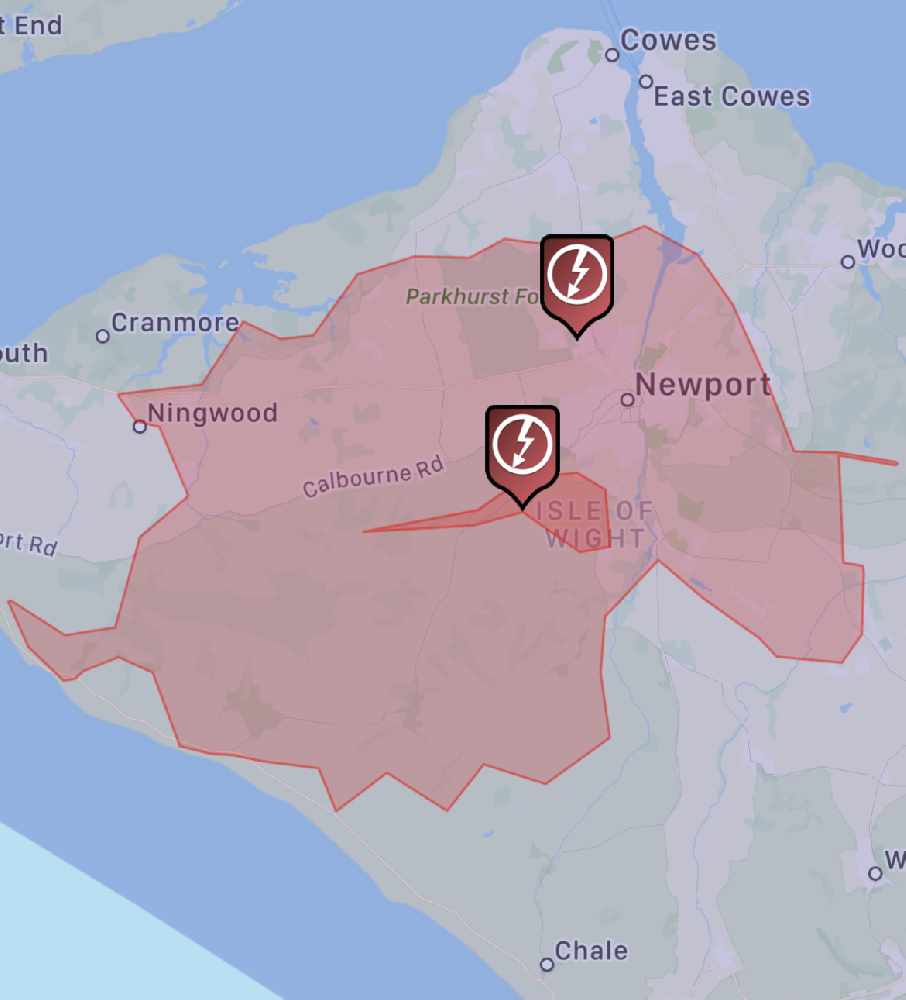 Homes and businesses in and around Newport have been hit by a power cut.
A total of 81 postcodes in the PO30 area are affected by the outage, which happened at 12.27am this morning (Sunday).
It's thought the high winds have caused the power cut, as Storm Bella brings winds of over 94mph to some parts of the Isle of Wight.
Update 8.57am:
Some residents have been without power for more than ten hours, and still have no sure way of knowing when their power will be restored this morning.
Scottish and Southern Electricity Networks is still reporting outages in 13 postcode areas.
The provider is working to restore power by 11am.
PO30 1YR
PO30 1YS
PO30 3DX
PO30 3DY
PO30 3DZ
PO30 3EA
PO30 3HT
PO30 3HU
PO30 3HX
PO30 3HY
PO30 3HZ
PO30 3JB
PO30 4HT
12.27am: Scottish and Southern Energy says it is working to restore power by 9.30am.
Postcodes affected:
PO30
PO30 4EJ
PO30 4NA
PO30 5BZ
PO30 5ES
PO30 5EZ
PO30 5GH
PO30 5HP
PO30 5HR
PO30 5HT
PO30 5HU
PO30 5HX
PO30 5HY
PO30 5HZ
PO30 5JA
PO30 5JB
PO30 5JN
PO30 5LD
PO30 5NL
PO30 5NN
PO30 5NP
PO30 5NR
PO30 5NS
PO30 5NT
PO30 5NU
PO30 5NW
PO30 5NX
PO30 5PB
PO30 5PD
PO30 5PE
PO30 5PF
PO30 5PG
PO30 5PH
PO30 5PJ
PO30 5PL
PO30 5PN
PO30 5PQ
PO30 5PR
PO30 5PS
PO30 5PT
PO30 5RS
PO30 5RT
PO30 5RU
PO30 5RX
PO30 5RY
PO30 5RZ
PO30 5SA
PO30 5SB
PO30 5SD
PO30 5SE
PO30 5SF
PO30 5SH
PO30 5TB
PO30 5TD
PO30 5TE
PO30 5TF
PO30 5TH
PO30 5TJ
PO30 5TP
PO30 5TY
PO30 5TZ
PO30 5UP
PO30 5US
PO30 5WB
PO30 5WH
PO30 5WN
PO30 5WU
PO30 5XW
PO30 1YR
PO30 1YS
PO30 3DX
PO30 3DY
PO30 3DZ
PO30 3EA
PO30 3HT
PO30 3HU
PO30 3HX
PO30 3HY
PO30 3HZ
PO30 3JB
PO30 4HT