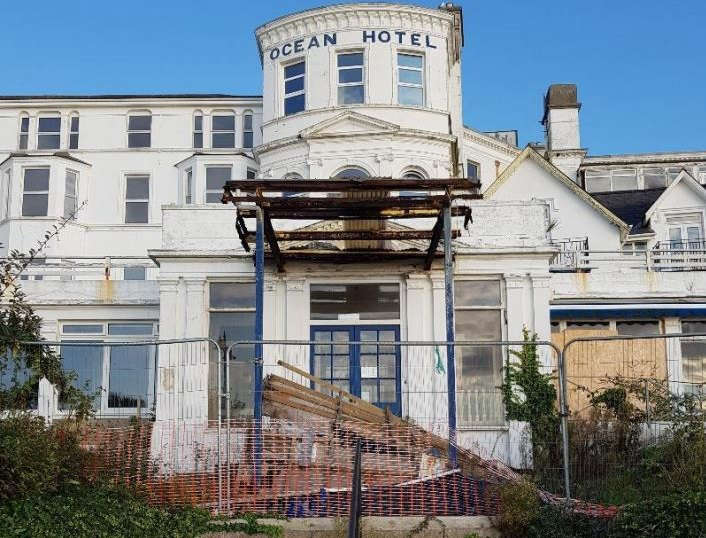 The owners of Sandown's derelict Ocean Hotel have been told they must clean up the site or risk committing a criminal offence.
A Community Protection Notice (CPN) has been issued by police, after a previous warning was seemingly ignored.
Back in May, officers asked owners Phoenix Commercial Property Development (PCPD) to erect a fence, install CCTV and border up windows and doors in a bid to prevent anti-social behaviour.
These actions have not been carried out, prompting the issuing of a CPN.
It means works at the site must be completed by July 11. Failure to do so, will lead to criminal proceedings.
A spokesperson for Isle of Wight Police said:
"We have put into place Operation Spider which launches on 20th June 2022 - this operation will provide pro-active uniform patrols on foot and cycle in the areas most effected by ASB and Criminal Behaviour across Sandown, Lake, Shanklin and Ventnor.
"Teams of our Neighbourhood Officers will deploy on specified, intelligence led patrols - our aim is deliver on our commitment to reduce ASB, Drug use and Violent Crime across the Bay.
"The operation also has us working closer than ever with Youth Diversion Services, the Youth Offending Team, Licencing Teams, Housing, Health and Education to ensure that we are preventing the cause of these issues and not just reacting to the symptoms."
Meanwhile, a date has been set for PCPD to appeal a separate council order to tidy the site up.
The matter will now go to a final hearing on August 3.
Police say they "continue to engage with and support the Local Authority with their Section 215 action".