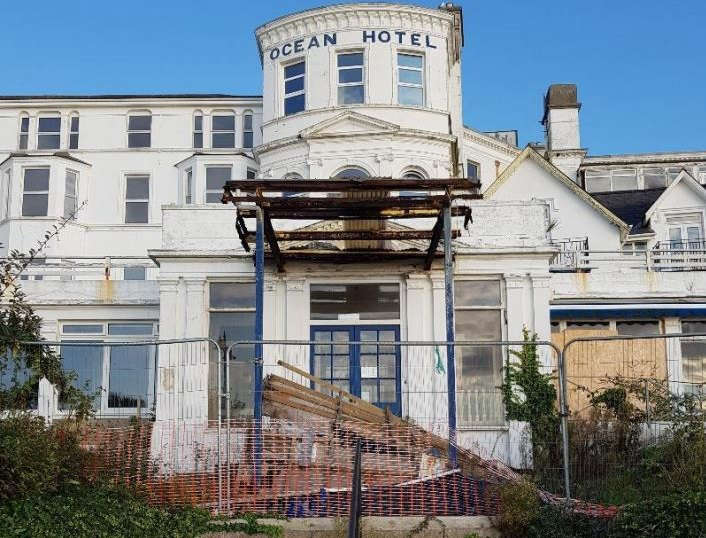 Erecting a fence, installing CCTV and bordering up broken windows and doors are among the new measures being put in place at Sandown's derelict Ocean Hotel.
Isle of Wight Police have issued a Community Protection Notice Warning (CPNW), after the hotel's owners appealed a council enforcement notice to tidy up the site earlier this week.
It follows a spate of anti-social behaviour incidents and criminal activity in recent months.
Police say they have "serious concerns" about the impact this is having on the community.
A section 215 notice has already been served at the hotel by the Isle of Wight Council. This is issued by the planning authority if they judge the condition of land or buildings to be harmful to the area.
Posting on Facebook, Sgt Radford from Isle of Wight Police said:
"I am hopeful that the use of a CPNW will assist in ensuring this location is secured, preventing ASB and Criminal Behaviour continuing in the short term; whilst the Isle of Wight Council progress with the Section 215 for a long term solution.
"We have issued the CPNW notice with the following condition's to be completed by 10th June 2022.
"• Erect a secure perimeter fence around the entire site and regularly inspect and maintain this fence.
"• Install CCTV which covers access and egress points with accompanying signage
"• Board every access point, including all broken windows and doors; on every level of the building to prevent trespass.
"If these actions are not completed by that date – I will consider authorising a full Community Protection Notice (CPN) – breaching a CPN is a Criminal Offence."
Officers say they continue to patrol the area.