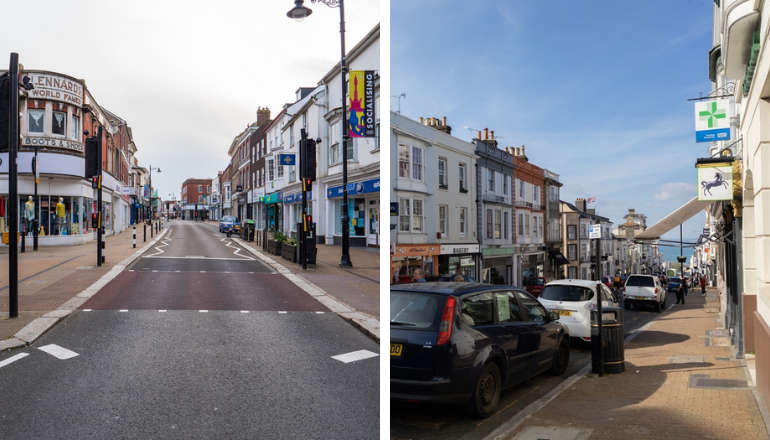 Shopfronts in two of the Island's major towns may have to be changed if new planning guidance is adopted by the Isle of Wight Council.
The Newport and Ryde Commercial Frontages Design Guide aims to protect the identity of the town's historic high streets.
It sets out a new standard for commercial properties to ensure their visual appearance enhances the conservation area, instead of having a detrimental impact, after both towns were accepted into Historic England's High Street Heritage Action Zones programme in 2019.
The draft design guide says much of Newport High Street has lost its architectural heritage, with the stretch west of St James' Street particularly affected, and characterised by 'run-down or bland' shopfronts of national retail chains.
The shopfronts, the document says, do not showcase the heritage of their buildings or what lies within the town.
In Ryde, the High Street is said to lack the same 'place appeal' as Union Street, again with national chains interrupting fine historic shopfronts.
Now, the design guide sets out how shop owners and landlords can redesign or refurbish their building fronts, starting with understanding the building, its heritage and assessing it in detail.
It says nearly all shopfronts in the towns can be improved.
The guide recommends all shopfronts should consider a cosmetic refresh before potential further work like repair and reinstatement or renewal goes ahead, with reference to the previous heritage of the area.
It also includes a final design checklist for owners to assess their proposed design, including whether the shopfront fits in the existing streetscape, are there historic details which can be retained and enhanced and whether the shop is accessible for all.
The authority is looking for people's feedback on the draft design guide before it is adopted to the local plan as a supplementary planning document.
You can view the draft supplementary design guide here: beta.iow.gov.uk/planning/local-plan/supplementary-planning-documents
The consultation starts today (June 17) and runs until midday August 1.