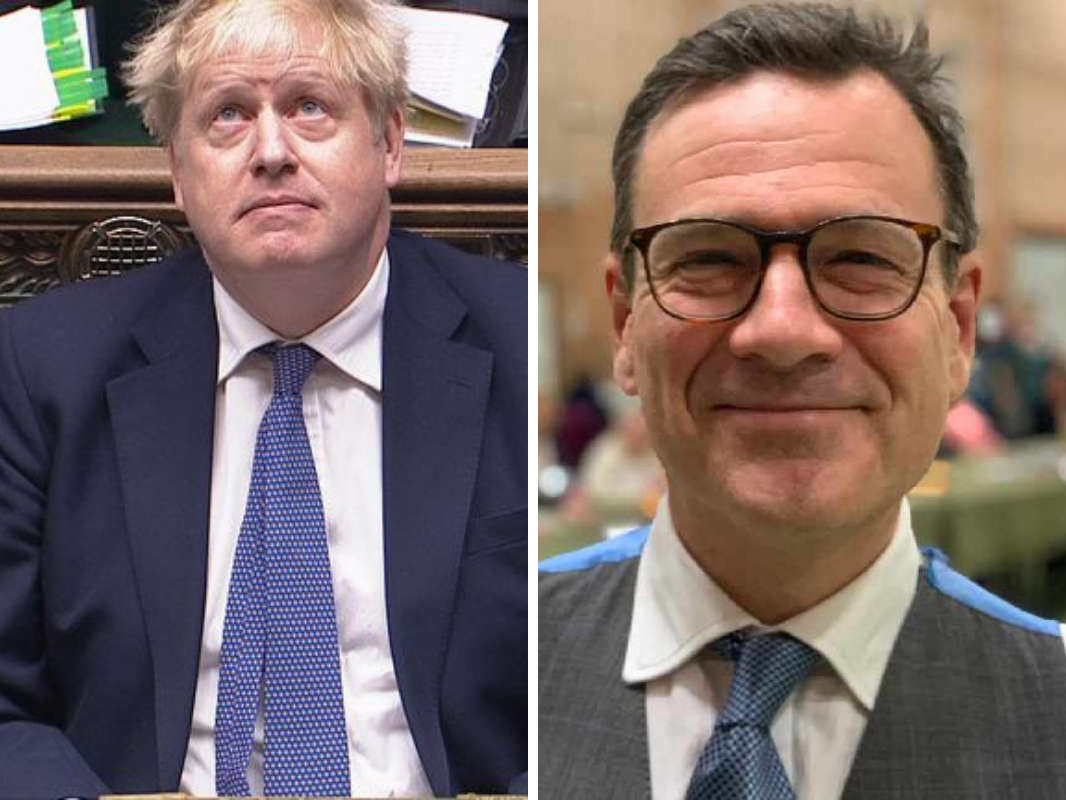 Boris Johnson picture from Sky News (C).
Isle of Wight MP Bob Seely says he's "glad" the Prime Minister has apologised for attending a party at Downing Street in May 2020, but stopped short of calling for his resignation.
Mr Seely said "people have a right to be concerned" but called talk of a so-called 'work event' at Downing Street a "noisy distraction".
Following increasing pressure in the last 24 hours, the Prime Minister has admitted he "went into that garden just after 6pm on 20 May 2020 to thank groups of staff" before going back into his office "25 minutes later".
He told MPs in the Commons: "I believed implicitly that this was a work event."
Labour leader Sir Keir Starmer called for Mr Johnson to "do the decent thing and resign".
Reacting to Mr Johnson's comments, Island MP Bob Seely said:
"People have a right to be concerned. I am glad the PM has apologised.
"Those Islanders that have taken the time to write to me are clearly frustrated by the situation. I understand their feelings, especially those people who were kind enough to share with me their sadness at being apart from loved ones during that period. I am very sorry to hear that. There were aspects of lockdown that I found to be both cruel, unnecessary and counter-productive.
"The year 2022 should be about getting life back to normal; getting children and young people's education back to normal, catching up with the NHS backlog with the Government's additional funding, and getting the economy going again - looking forward with a sense of optimism. These are the real issues that matter to the lives of Islanders and the life of our country, and these are the things that affect us all.
"Anything else is a noisy distraction. Regardless of events in Westminster, I will keep on making the case for the Island and fighting to get a better deal. I have no doubt that that is what Islanders want, and that is what I will be doing."

Isle of Wight councillor and Labour parliamentary candidate for the Island, Cllr Richard Quigley, called for Boris Johnson's resignation.
He also called for Mr Seely to find his "moral compass". He said:
"If the Prime Minister was sincere, he could have apologized at any time over the last 18months. He hasn't, he has apologised for being found out, much like our own MP Bob Seely did after his BBQ...
"The rules mattered, they told us they mattered, but as it turns out, they only applied to us, the little people. Johnson and Seely have treated us with contempt, contempt that spreads wider than their actions during lockdown.
"It is time for the PM to find his moral compass and do the right thing and resign, the same applies to Bob Seely MP."
Spokesperson, and former parliamentary candidate for the Isle of Wight Lib Dems, Nick Stuart said:
"We believe that the Prime Minister's behaviour and recent untrue statements regarding parties during strict lockdown should lead to his immediate resignation.
"His apparent willingness to break the law he put in place, and his demonstration of contempt for everyone else trying to prevent deaths from this horrible disease is disgusting.
"While we isolated ourselves from family and friends he partied and allowed cronies to milk the emergency.
We have raised issues before about his arrogance and incompetence. However his key part in, and attendance at a lockdown party smash any moral authority or leadership credibility he claimed.
"In spite of Johnson's willingness to ignore concerns or take personal responsibility we believe that Parliament will see through his lies. We suggest the public contact our MP (Bob Seely) and encourage him to seek Boris Johnson's resignation."
Isle of Wight Radio asked Islanders their thoughts on Boris Johnson's future yesterday (Tuesday).
Read what they had to say below...