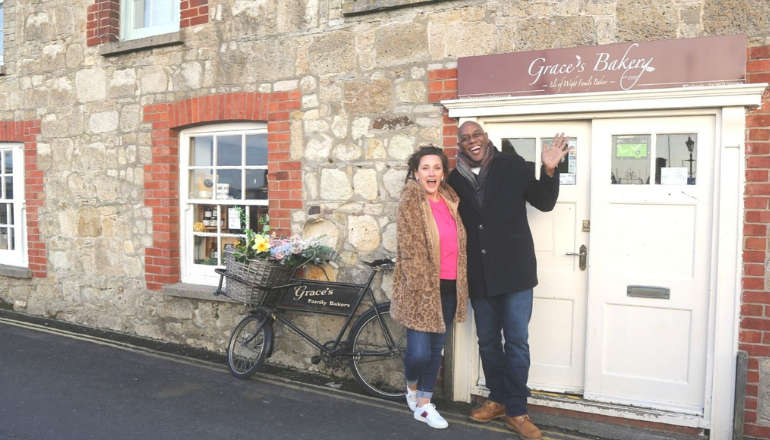 The popular food and travel show Best of Britain By The Sea will feature the Isle of Wight in a hour long show this Monday.
Filmed in February, the programme is presented by food writer and presenter Grace Dent and TV chef Ainsley Harriott.
Island businesses The Needles Sweet Manufactory, Grace's Bakery, The Royal, The Smoking Lobster, Wightwood Pizza, The Garlic Farm and Wight Coast Fossils made the final cut of the show, which will be screened on More4.
Producers, Blink Films, specialise in making food related programmes and the team declared themselves overwhelmed at the sheer choice and quality the Island had to offer.

Dan Chamber, co-founder and Creative Director at Blink Films, said:
"Filming on the Isle of Wight was such a delight. So many special places of interest, gorgeous accommodation, and first-class food.
"The only problem we had as producers was how to reduce it to just an hour. It could have been a six-part series!"
Ainsley Harriott waxed lyrical about the Island, saying:
"Great light, great food, great air – fresh air, I've never slept so well. You should come to the Isle of Wight, you could have the same experience!"
Will Myles, MD at Visit Isle of Wight added:
"I am very excited to see the Best of Britain by the Sea on Monday evening and I am looking forward to the reaction of people when they have seen it too.
"It is only possible due to the continuing support of levy payers, voluntary contributors and our partners through the Wight BID that Visit Isle of Wight can make investments in marketing the Island to the UK and beyond."
Best of Britain By The Sea premieres on More4 at 9pm tomorrow, with a repeat at 11.15pm and on Channel 4 at 5pm on Sunday June 26.