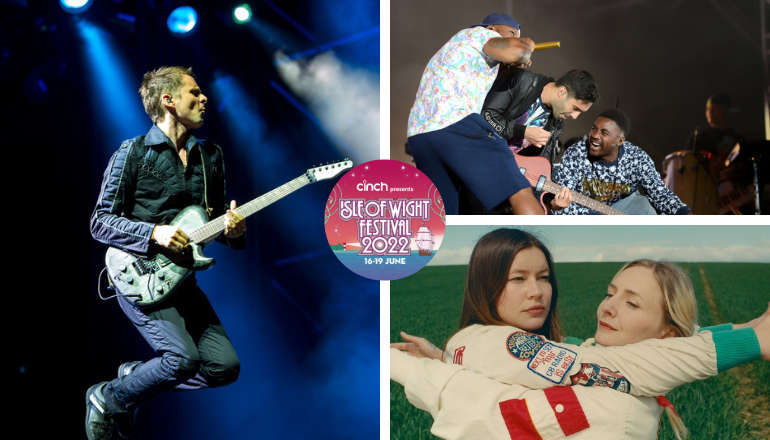 The final day of this year's Isle of Wight Festival is upon us, with Saturday having provided notable performances, despite the weather's attempts to scupper celebrations.
The likes of Kasabian, Shaggy and Pete Tong brought excitement and theatre to proceedings last night.
The latter performed with Jules Buckley's Heritage Orchestra, to deliver a dazzling dance/classical meld which delighted the Main Stage arena.
Shaggy's high-octane Big Top headline set was equal parts mirth and seduction, concluding with an "It Wasn't Me" singalong.
Blossoms were regrettably curtailed by the inclement weather, but still pulled out some bangers.
And then there were the outfits...
Here's a look at some of today's notable acts, full set-times for the two main stages and some other acts we think you should check out today (Sunday).
Main Stage
Beth Brookfield (11.35am - 12.05pm)
Morgan Wade (12.30 - 1pm)
Del Amitri (1.25 - 2.10pm)
Mavis Staples (2.40 - 3.20pm)
Laura Mvula (3.50 - 4.30pm)
UB40 ft Ali Campbell (5.00 - 5.45pm)
Tom Grennan (6.15 - 7.05pm)
Rudimental (7.35 - 8.35pm)
Muse (9.20 - 10.50pm)
Muse

(9.20 - 10.50pm)
Muse - Matt Bellamy, Dominic Howard and Chris Wolstenholme - saw their last album, Simulation Theory, debut at number one in the UK charts.
This marked the band's sixth straight album to debut in the UK top spot, while their live performances are among the very best on the planet. Expect figurative fireworks (before the actual fireworks).
Rudimental

(7.35 - 8.35pm)
Rudimental are a British drum and bass band who rose to prominence in 2012 when their single "Feel the Love," featuring singer John Newman, topped the UK Singles Chart.
Today they boast three UK number one singles and two UK number one albums.
Tom Grennan

(6.15 - 7.05pm)
Grennan found fame as the guest vocalist on Chase & Status's "All Goes Wrong," which was featured as the Hottest Record on Annie Mac's BBC Radio 1 show.
His musical beginnings are obscure, but he says he was at a house party where he sang "Seaside" by the Kooks. He didn't remember it, but his friends were impressed and pushed him into performing more!
Big Top
Overpass (11.50am - 12.20pm)
MAX (12.50 - 1.25pm)
Toyah (1.55 - 2.40pm)
Nina Nesbitt (3.10 - 3.55pm)
Wet Leg (4.25 - 5.25pm)
Mae Muller (5.55 - 6.45pm)
The Coral (7.15 - 8.15pm)
The Charlatans (8.45 - 9.55pm)
The Kooks (10.50pm - 12am)
Wet Leg

(4.25 - 5.25pm)
The first Isle of Wight musicians to secure a UK number one album are arguably the hottest band on the planet right now.
The eponymous debut LP included smash hits Chaise Longue, Ur Mum and Wet Dream - and this year will see them return to the Big Top with far more fanfare than for their set nine months earlier.
The Kooks

(10.50pm - midnight)
Having appeared at the festival in 2008, The Kooks embarked on a tour to celebrate the 15th anniversary of their debut studio album 'Inside In/Inside Out' last year.
Since its release, the 2006 LP has cemented itself as a staple indie soundtrack to a whole generation of young people.
The Charlatans

(8.45 - 9.55pm)
Isle of Wight Festival veterans return for what promises to be another singalong session for those in the Big Top.
Three UK number one albums in the 1990s propelled them to music royalty status, and they never disappoint when on the Seaclose Park bill.
Outside the box
Beth Brookfield (Main stage, 11.35am - 12.15pm)

Brilliant singer/songwriter and guitarist currently studying at Newport's Platform One music college.
Her recent success at the Wight Noise competition - Beth was the first ever female solo artist to win it - saw her secure an inaugural Main Stage slot for this year's festival.
She had the Kashmir Cafe buzzing on Saturday afternoon - so check her out on the Main Stage!