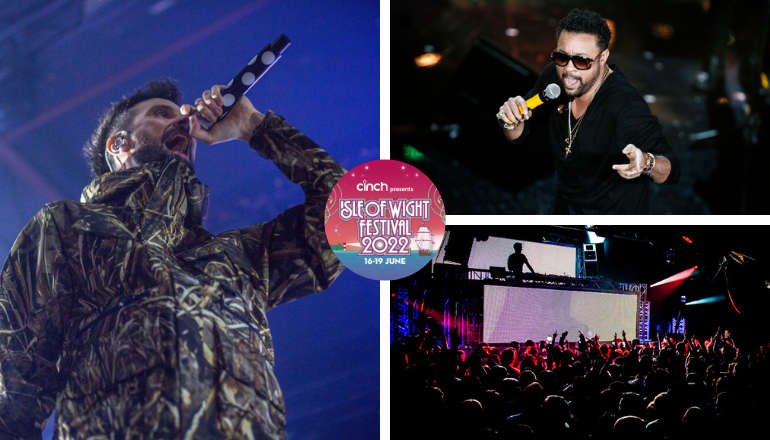 Day three of the Isle of Wight Festival kicks-off this morning (Saturday), with a variety of globally recognised names and hidden gems.
Friday saw the festival veterans Madness and Nile Rogers & Chic delight Main Stage crowds with hit-laden sets.
Lewis Capaldi headlined, punctuating angst filled melancholic melodies with his customary humble wit, including signing a shoe for a fan.
Craig David, meanwhile, provided a breathless headline set for the Big Top, which culminated with audience singalongs to Seven Days and Fill Me In.
The good news is, there are two more days of festival to enjoy! Here's a look at some of the highlights today at Seaclose Park.
Main Stage
Full line-up:
Greek Tragedies (11.55am)
Chinchilla (12.50pm)
The Fratellis (1.50 - 2.30pm)
The Proclaimers (3pm - 3.40pm)
Jessie Ware (4.10 - 5.10pm)
Paul Heaton & Jacqui Abbott (5.30 - 6.20pm)
Blossoms (6.50 - 7.50pm)
Kasabian (8.20 - 9.35pm)
Pete Tong presents Ibiza Classics (10.20 - 11.50pm)
Pete Tong

(10.20 - 11.50pm)

Pete Tong Presents Ibiza Classics performed by The Heritage Orchestra, Conducted by Jules Buckley.
The collaboration proved popular during an arena tour (watch above).
Kasabian

(8.20 - 9.35pm)

Kasabian have five UK #1 albums to their name and have sold over 5.5 million albums worldwide.
The band previously performed at the Isle of Wight Festival in 2018.



Blossoms

(6.50 - 7.50pm)

Since their musical breakthrough in 2016, Blossoms have evolved from being hotly tipped upstarts to one of the most beloved, respected acts on the circuit today.
Their third studio album 'Foolish Loving Spaces' released in January last year reached Number one in the UK Album Chart.
Check out the backstage acoustic set from the band's 2018 IW Festival appearance (above).
Big Top
Full line-up:
Germain (12.25pm)
Since September (1.20 - 2pm)
Everyone You Know (2.30 - 3.10pm)
Mark Owen (3.40 - 4.20pm)
The Amazons (4.50 - 5.40pm)
GRIFF (6.10 - 6.55pm)
Nathan Dawe (7.40 - 8.50pm)
Joel Corry (8.55 - 10.30pm)
Shaggy (11.30pm - 12.50am)
Shaggy

(11.30pm - 12.50am)

Jamaican reggae musician, singer, DJ, and actor who scored hits with the songs "It Wasn't Me" (above), "Boombastic", "In The Summertime", "Oh Carolina", and "Angel".
The iconic performer is likely to produce one of the most memorable sets of the entire weekend.
Joel Corry

(8.55 - 10.30pm)

English DJ, producer and television personality who came to prominence in 2019 with the release of his single "Sorry", featuring vocals from Hayley May, which reached number six in the UK Singles Chart.
In 2020, Corry released the singles "Lonely" and "Head & Heart"
Nathan Dawe

(7.40pm - 8.50pm)

English DJ and producer. He is best known for his 2020 single "Lighter" featuring KSI, which reached number 3 on the UK Singles Chart.

Outside the box:

Psycho Acoustic Goat (Cirque de la Quirk, 5.05pm)

Psychedelic duo known for creating eclectic goat-themed stomp music on acoustic bass and viola.
A cocktail of FX pedals, percussive style slap bass and a classically trained space goat.
The quirkiest of all Quirk stage performers are now working on their third album.