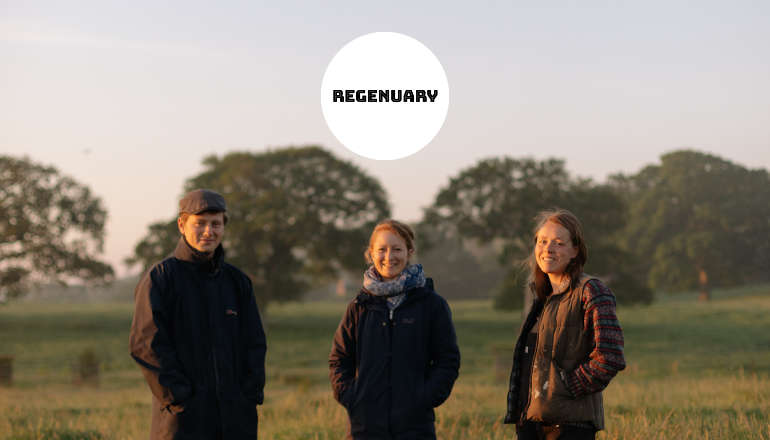 The Modern Home Farm team. Photo Credit: Maria Bell.
A new farming venture on the Isle of Wight is embracing a global sustainable eating movement this month.
The Modern Home Farm, based on the Nunwell Estate near Brading, was founded by Francesca Cooper, Christy Morley and Hollie Fallick last year, producing Belted Galloway grass fed beef, native breed soy free pork and pastured eggs.
It is now promoting Regenuary — a sustainable eating movement gathering momentum on social media which urges consumers to opt for food produced according to 'regenerative' farming methods — for the month of January.
In contrast to Veganuary (Vegan January), you can still eat meat but everything you do eat must meet certain criteria, including:
They are working alongside landowner, Robert Oglander, who shares their vision for farming regeneratively and is excited to see how these practices will benefit his estate.
A spokesperson for The Modern Home Farm said:
"Conventional agriculture is currently in the spotlight for all the wrong reasons — carbon and methane emissions, soil degradation, nitrate pollution and poor animal welfare.
"Regenerative farmers aim to not only farm sustainably, but to 'regenerate' the land by increasing top soil, building climate resilience, capturing carbon and supporting animal welfare practices such as raising native breeds outdoors with space to express their instincts."
The Modern Home Farm was founded in 2021 and has already received rave reviews for its first meat boxes.
Starting in spring 2022 it will also hold regular open days and tours aimed at educating customers on how regenerative agriculture can turn the tide of agriculture to increase biodiversity, build soil and capture carbon.