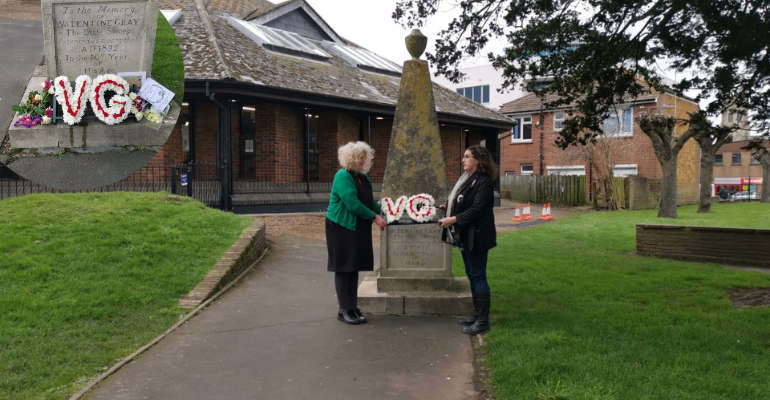 Isle of Wight Councillors Julie Jones-Evans and Vix Lowthian laid a wreath to commemorate the 200th anniversary of the death of 10-year-old chimney sweep, Valentine Gray, today (Monday).
Commencing at 2pm, a small gathering assembled at Valentine Gray's memorial in Church Litten park, the old burial ground for St Thomas' Church.
Cllr Jones-Evans spoke about the life and times of the young chimney sweep, whose dead body was found on 31 January 1822.
After the wreath and flowers had been laid at the memorial, local history enthusiast Roger Fruen — who has been researching the timeline of the tragic young boy's 14-week stay on the Island — gave a detailed account of the final weeks of his life.
Mr Fruen said:
"Valentine was chosen because he was very small for his age, possibly due to malnutrition or disease.
"I (believe) he was terrified and (due to) the nature of the work he got grazes and wounds which wouldn't heal.
"He scratched his sores, so his master and mistress tied him to a table, literally spread eagle, and beat him regularly (for such 'indiscretions').
"About a week before he died, Valentine was seen being hit with a piece of wood by his master, with an autopsy later showing a badly bruised brain from the beatings he received."
Valentine had been born into a poor family in Alverstoke, Hampshire. In 1821, at just nine years old, his soon to be master, Benjamin Davies, hired him to work as an apprentice sweep, bringing him to the Isle of Wight.
Mr Davies was convicted of manslaughter following his death but served only one year in prison.
Most young chimney sweeps were beaten, underfed and forced to work long hours.
Newport's Gray's Walk (between Pyle Street and Scarrots Lane) was also named in memory of young Valentine Gray.