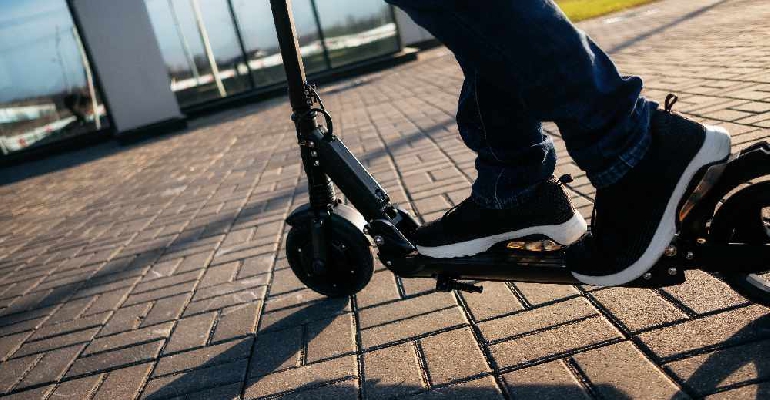 E Scooter
The Isle of Wight is among four places pitching for an E-Scooter trial, which could see Islanders hop onto the two-wheeled vehicles at the simple touch of a button as soon as next month.
Solent Transport, working with local authorities is attempting to launch the trial in Hampshire, Portsmouth, Southampton and on the Isle of Wight.
It comes just months after the rental vehicles became legal on our roads at the start of July.
Just last week, retailer Halfords said sales of electric bikes and scooters more than tripled over the summer, as people looked to avoid using public transport because of coronavirus.
The Department for Transport (DfT) says any area can apply to be considered for the 12-month e-scooter scheme, in a bid to support a 'green' restart of local travel and take the pressure off public transport links.
Where will the trial be focused?
If the contract is awarded it would see Ryde, Newport and Cowes be the main areas of focus.
Do you need a license?
Users need a full or provisional license to be allowed on an e-scooter. But you will not be required to complete a mandatory training course (such as the compulsory basic training (CBT) course required for motorcycles and mopeds).
Providers who can offer training courses are being considered by local authority.
How old do you have to be?
Above the age of 16.
Onboard GPS
To ensure the scooters cannot be used outside designated trial zones, there will be an onboard GPS restricting you to a certain zone.
How fast can you go?
You can not exceed 15.5 mph under any circumstances and the limit may be set to a lower top speed in some areas.
How many people can use the scooters at one time?
They are designed to carry no more than one person.
How are e-scooters powered?
They are powered by an electric motor and battery, with a maximum continuous power rating of 500W.
What about parking?
They must be attached to a dock or so-called fixed bracket and an 'adhoc' option to leave the bike at any location will not be considered.
What about vandalism?
Measures will be in place to encourage responsible use such as technology to restrict your speed, unique identifiers will be fitted on each scooter (like car registration plates) and rider awareness training will be made available.
When will trials start?
Once the green light is given by the DfT and the local authority, trials will commence in phases from October 2020 through to March 2021.
How will the trial be evaluated?
The initial aim is to build evidence about the safety, benefits, public perceptions and wider impacts of e-scooters so legal changes can be made after the trial period is over.
Secondly, the aim is to understand how the local transport systems are working, what factors support or hinder this, and learn lessons for future schemes.
The e-scooters will be subject to the approval of the local highway authorities as well as the DfT and no formal decision has yet been made.
Isle of Wight Radio has been told 'the tender process is underway.'