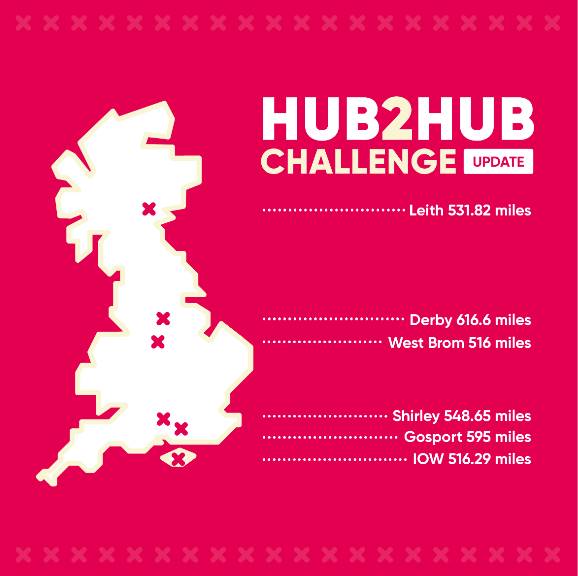 The 'Utilita Hub-to-Hub Challenge' in Newport has raised £2,700 by walking, running, cycling and skipping a whopping 516 miles for Independent Arts, whose vital fundraising and community-building activities have been curbed by the coronavirus crisis.
The charity fundraiser kicked off on 18th May for five weeks and included a team from the Newport Energy Hub either walking, running, cycling or skipping the equivalent distance from the Utilita Hub in Newport in the Isle of Wight to the Hub in Leith – totalling a whopping 516 miles.
Across the UK, teams from six Utilita Energy Hubs have been taking part in the challenge clocking up 3,324 miles in total to collectively raise a huge £16,208 for a range of different charities, from community churches providing affordable food, to charities supporting those with learning disabilities and autism fulfil their potential.
The Newport Energy Hub team completed the miles by making the most out of outdoor spaces, such as doing laps in their local park until they reached the 516-mile milestone.
Katherine Allen, Utilita Hub Manager in Newport, Isle of Wight, comments:
"We admire the incredible work by Independent Arts to support disadvantaged groups who are socially isolated or suffering with poor mental health. With many charities and businesses falling on hard times during the pandemic, we appreciate it can be a real struggle to keep up donations to stay afloat.
"With that said, we're thrilled to have raised £2,700 for Independent Arts to support their cause and hope to support them further in the future!"
Hannah Griffiths, Operations Manager at Independent Arts, comments:
"On behalf of Independent Arts, I'd like to say a huge thank you to the Hub team and their sponsors for raising this amazing amount of money. We're so thankful to all who have donated, your money will help change lives here on the Isle of Wight during these difficult times."
The full list of charities and support groups 'The Utilita Energy Hub-to-Hub Challenge' fundraised donations for across the UK included Newport Energy Hub and Independent Arts.
Founded in 1987, Independent Arts uses the arts to improve wellbeing and quality of life and to reduce social isolation.
It engages with 1,700 older people across the Island every month.

As well as supporting local communities, Utilita Energy Hubs serve to offer face-to-face customer service – almost unheard of in today's energy sector – as well as energy efficiency advice and technology, access to interactive kid-friendly energy efficiency apps, and a dedicated community space that is open for the public to book and use from Monday to Saturday free of charge.