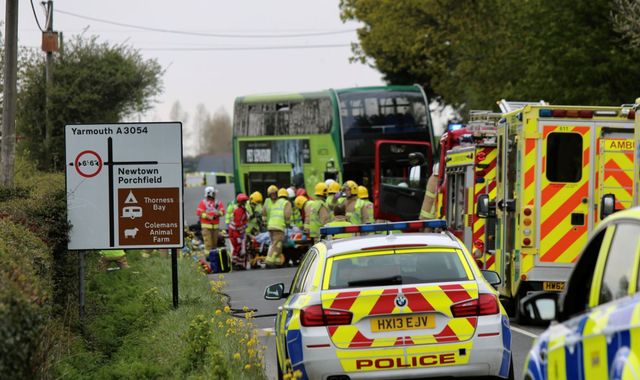 An aspiring primary school teacher has been sent to a young offenders institute, after admitting responsibility for a crash which killed a "beloved" Isle of Wight mother and grandmother last year.
Members of Yvonne Copland's family were also seriously injured in the incident, which involved a bus, on Forest Road on April 14.
Essex woman, Yaashmi Ravikumar, who was 18 at the time, appeared at the Isle of Wight Crown Court today (Monday). She pleaded guilty to causing death by dangerous driving, and four counts of causing serious injury by dangerous driving.
The court heard how Miss Ravikumar failed to spot road markings and several warning signs on her approach to Forest Road, at the junction of Whitehouse Lane and Betty Haunt Lane.
It was said how she was reliant on her sat nav, which she claims did not inform her of an upcoming junction.
Daniel Sawyer, prosecuting, said:
"Miss Ravikumar was driving together with three friends on her way to the Needles. They were here visiting. On the approach to Forest Road there is an advanced give way sign on the left.
"Drivers in the car behind Ravikumar confirm what is shown by her black box that there was nothing untoward about her driving. On her approach to Forest Road a double decker bus could be seen over the hedgerow.
"Miss Ravikumar appears not to have seen the bus, the give way sign or markings. She failed to give way and drove headlong into the left wing of the bus.
"The impact from Ravikumar knocked the bus sideways and into the oncoming traffic. There was nothing that could be done."
The driver of the Southern Vectis bus, Stephen Pitman, managed to prevent the bus from leaving the road. He lost consciousness after telling a passenger to turn off the engine.
He was injured in the crash, sustaining a cut to his head and a fracture to his lumbar vertebrae and was taken to hospital.
The court heard how Yvonne was travelling in the opposite direction to the bus, along with her husband of 43 years Derrick Copland, their son Warren and his partner Richard Wealsby. All were seriously hurt in the crash. Mrs Copland, 64, passed away from injuries to her spine and chest.
In a series of victim personal statements read to the court, bus driver Mr Pitman revealed how he blamed himself. His statement read:
"I still find myself reliving the situation. I am on anti-depressants because of my guilt. It will stay with me for the rest of my life.
"I was determined to get behind the wheel of the bus. My employers put a plan together. Driving past the crash site I became anxious and overwhelmed.
"I used to love my job but I realise my love is now gone. Although there was nothing I could do to prevent the crash, I still have memories of that day I think will be with me forever. "
The court heard how Mr Pitman was not at fault.
In his statement, Derrick Copland, who first met Yvonne in 1973, said he has not returned to their home since the day of the collision. He has been in a residential home since coming out of hospital. He paid tribute to his late wife:
"My wife Yvonne was a beautiful, warm, generous person who didn't deserve to be taken that day. Her death has left a hole in our lives that cannot be filled.
"I miss everything about her.
"Not a day goes by that I don't think about her. I didn't even get to attend her funeral. I wish every day that the accident had not happened. I look forward to the day we will meet again."
The court heard how Miss Ravikumar was studying mathematics in London, and is an aspiring primary school teacher.
Mr Christopher Martin, defending, told the court that although her "remorse was evident", it was "absolutely conceded that Miss Ravikumar missed the warning signs."
He said:
"Her driving consisted of failing to notice a number of indications that there was a junction coming up…. her sat nav gives no advanced warning of the junction ahead. There are two give way signs, a change of road marking, and other indications as well. There were a number of ways which she should have been aware there was a junction in front of her.
"Miss Ravikumar remained at the scene and immediately said how terrible she felt because the crash had been her fault. She was not on her phone. Music was playing but it was not loud.
"Miss Ravikumar was an inexperienced driver and she took the decision to voluntarily cease driving immediately. She has not driven since April 14."
The court heard how a police officer also drove the same route, noting that his sat nav gave no verbal warning either.
Judge Susan Evans QC said:
"I must reflect in the penalty the act of serious harm caused to others. Count one will be the lead offence. I will give you full credit for the guilty plea and I accept you are deeply remorseful.
"As you said in your letter to me, you do not expect anyone else to forgive you and in fact you cannot forgive yourself."
The judge imposed 18 months' detention in a young offenders institution.
Miss Ravikumar has also been given a driving ban of two years and nine months.