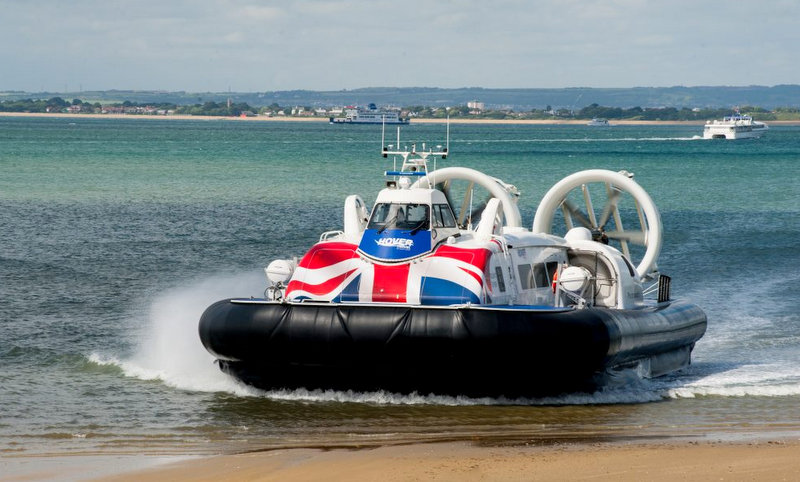 A Hovercraft was forced to stop in the middle of the Solent after two passengers became 'verbally abusive' over face coverings.
As a result of the incident on Friday, the individuals in question have been banned from using the service in the future.
The Captain was also forced to stop the hovercraft during the crossing to re-iterate the regulations and alert the authorities.
Officers responded to reports that 'two passengers were being abusive towards staff' on a crossing from Portsmouth to Ryde at 5.49pm.
Hovertravel adds that it has previously had to explain the reasons why and encourage the use of face coverings - which are mandatory on all public transport in England - to the individuals before.
A spokesperson for Hampshire Constabulary said:
'Officers attended and spoke to all parties involved.
'The verbal altercation was about one passenger wearing a facemask which apparently had a broken strap. Officers engaged with all parties and no one made a formal complaint.
'The passenger was dealt with by Hovercraft staff and advised they could no longer use the service.'
A spokesperson for Hovertravel said:
'The police were called to talk to two verbally abusive passengers refusing to wear face coverings onboard Hovertravel's 1730 flight from Southsea. Hovertravel staff have engaged with these customers on a number of previous occasions.'
'The customers became verbally abusive and so Hovertravel followed its zero-tolerance policy to any abusive behaviour by cancelling both customers' travel cards. These two individuals will no longer be permitted to travel with Hovertravel.'