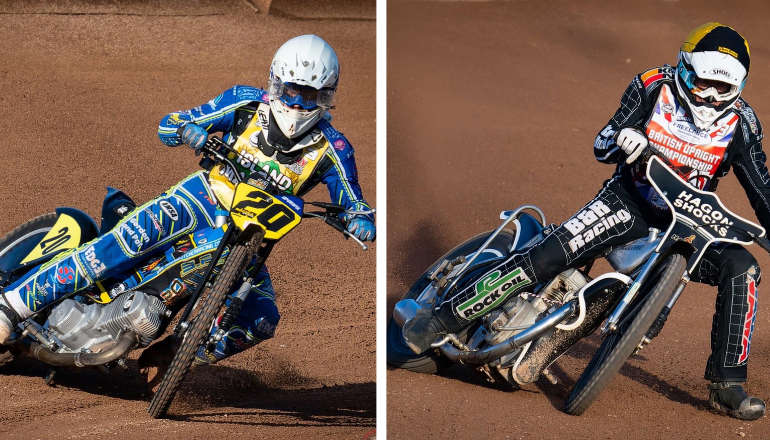 Arran Butcher (left) and Keith Cornell starred at Smallbrook.
Having posted three impressive wins last week on his Wightlink Warlocks debut, Arran Butcher made mincemeat of the opposition again to secure Island Masters Series victory with a further five triumphs.
With several of the bigger grasstrack names on their way to lucrative weekend racing abroad, it was left to some up-and-coming racers and a few old hands to entertain the Smallbrook faithful yesterday (Thursday).
None could live with Butcher who competed on the Island before heading to Dover and the night crossing to France for another weekend of racing on the continent.
As well as the Island Masters, the meeting featured the first of two qualifying rounds for the Freelance Installations British Upright Championship.
It was Kentish racer Keith Cornell who steered his trusty Weslake machine to three convincing wins in an unbeaten performance.
Joining him in the August final will be Nigel Coates, Glyn Edwards and Shaun Bickley, all of whom battled hard on the Smallbrook circuit.
Wightlink Warriors co-owner Barry Bishop said:
"My sincere thanks to everybody who contributed to tonight's meeting.
"It was a super slick show, all wrapped up by 9pm thanks in no small part to the co-operation of the riders being ready to race without delay.
"Arran was brilliant, and he continues to impress us with his commitment and ability, while Keith was ultra-keen to succeed in the Uprights and three smart starts saw him home in fine style."