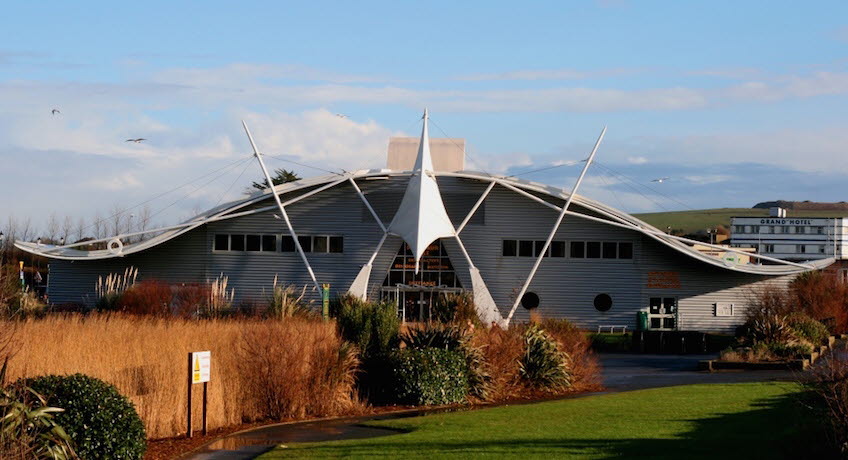 Photo from Red Funnel.
Question marks remain over the future of Sandown's Dinosaur Isle after the Isle of Wight Council revealed it was struggling to secure investment in the site.
A commercial partner was sought to help develop the attraction, which the council says requires "significant investment".
In 2017, it was estimated £850,000 was needed to repair and maintain the popular museum.
An Invitation to Tender (ITT) was advertised in 2019, with just one bidder expressing a formal interest.
However, the council says the requirement to take on the site's operation and maintenance is "constraining the investment opportunity".
A report, due to go before councillors next week, reads:
"The current process to secure an investment partner has proved challenging due to the significant nature of the investment required, uncertainty on the viability of a commercial investment and the challenges of the site and location.
"This uncertainty has been compounded by COVID and the scope of the Invitation to Tender (ITT) which appears to limit the investment options."
The council recommends reviewing its ITT process "to better understand the viability issues, in order to ensure the procurement process can properly consider the full range of development and investment opportunities".
It is thought the council wants to use the recently-closed Browns site as part of any future deal for a new investment partner of Dinosaur Isle.
Speaking exclusively to Isle of Wight Radio in September, council leader Dave Stewart hinted that this could be the case.
The council were seeking a short-term tenant to run the golf course in the meantime, but no bidders have been found.
A report discussing Dinosaur Isle will go before the council's Cabinet next Thursday (11).