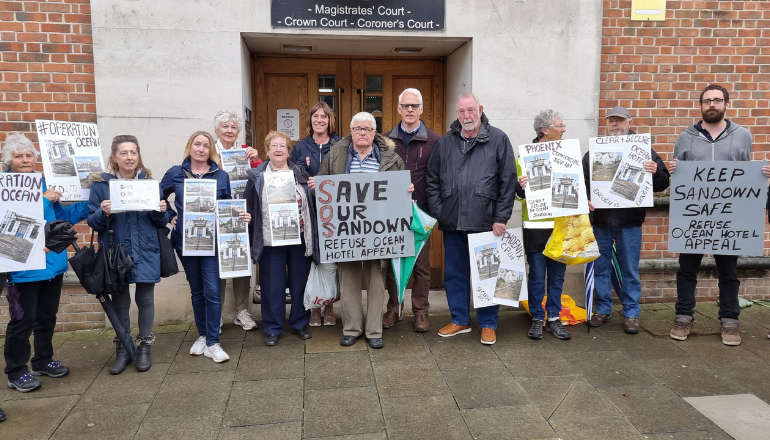 A date has been set for the appeal by the owners of the derelict Ocean Hotel against an order to tidy up the Sandown eyesore.
In February, the Isle of Wight Council served owner Phoneix Commercial Property Development (PCPD), with an official notice to clean up the building.
In recent years the hotel has stood empty and become the target of vandals and arson attacks, with a blaze in May last year worsening its condition.
The council say the building's appearance significantly harms Sandown.
The notice meant PCPD had two months, until May 11, to comply with 13 actions which included removing vegetation, cleaning windows and removing steel supports from the former entrance canopy fronting the Esplanade.
The owners appealed the notice however, pausing the process, with the case coming before Isle of Wight Magistrates today (Friday, May 20).
PCPD argue the condition of the land does not adversely affect the council's own land; the requirements of the notice exceed what is necessary for preventing the condition of the land from adversely affecting the council's land and the time period given in the notice to take action 'falls short of what should reasonably be allowed'.
No one was present to represent the Ocean Hotel in court.
The matter will now go to a final hearing on August 3, should PCPD not wish to vary the date.
Outside the court protestors from Sandown Community Association gathered, calling for action from the owners in tidying the space up.
Sandown mayor, Cllr Paddy Lightfoot, joined protestors and said despite assurance from the new owners that they would tidy up the site after taking it over from the Carlauren Group, nothing had happened.
He said: "The basis of the appeal that it is not affecting the amenity of the surrounding land which is beyond belief.
"Sandown residents and business owners and hospitality businesses face yet another summer of enduring this mess."
The Isle of Wight Council's cabinet member for regeneration, Cllr Julie Jones-Evans was among the group and said the enforcement team had worked hard to ensure PCPD obeyed the law.
She said with the hotel being in such a prominent space on the seafront, it was a distressing view for locals and visitors and it is important to have it safe, renovated and made useful again.
Recently Hampshire Constabulary joined the council, calling for the site to be secured by serving a Community Protection Notice Warning (CPNW).
It is hoped the CPNW will secure the location in the short term while the council's action will secure a long-term solution.
By June 10, the owners will have to install CCTV, board up every access point and erect a secure perimeter fence around the site.