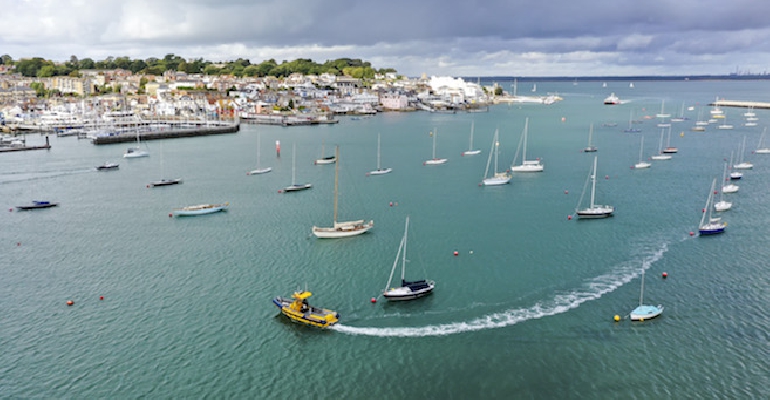 Cowes Harbour Commission
Cowes Harbour Commission (CHC) says it is getting ready for the return of overnight visitors to the harbour, following confirmation from the Government that overnighting on boats will be allowed from Saturday.
The latest changes mean that it can now accommodate pre-booked overnight stays at visitor moorings in the harbour, on the River Medina and at Shepards Marina.
Currently, there will continue to be no rafting of boats and CHC is working with other Solent harbours towards a protocol agreement for the Solent to put to the South Coast Harbour Masters' Association and British Ports Association.
Short stays at CHC visitor mooring locations will also be changing from July 4 back to the normal "up to four hours" stay.
The CHC says it is focused on keeping Cowes Harbour safe and protected by staying COVID-19 secure and seeking to make changes that best mitigate the risks to visitor safety that are unique to a port and marina environment.
Adding that it has complied with the Government's guidance on managing the risk of COVID-19 at CHC sites and visitor mooring locations with extra mitigations in place to ensure that our visitor moorings are safe places to bring your family to stay overnight.
Visitors are however urged to maintain the 2 metres social distancing between visitors of different boats, households or support bubbles, and where that is not viable, 1 metre is acceptable plus mitigations such as the wearing of facemasks in communal spaces.
It has made a number of adaptations to keep staff and visitors safe, with protective screens in reception, and hand sanitiser available for visitors' use at Shepards Marina.
CHC is working towards the following:
Informing all pre-booked overnight visitors in advance about guidelines for Shepards Marina and harbour/river moorings.
Ensuring enhanced, frequent cleaning of areas receiving higher usage with overnight stays.
Recommending that visitors use the wash facilities onboard their own boats wherever possible.
Putting in place measures to manage the usage of shared washroom and toilet facilities by overnight visitors.
Keeping shower facilities closed for the first week and under review.
Having clear information to alert visitors to the increased risk of using communal washrooms and toilets.
Keeping customers' contact details in case of need for track and trace.
Shepards Marina will initially be offering the lower overnight berthing rate of £2.94pmpn from Monday to Sunday (to be kept under review). For all enquiries and bookings, contact the moorings team at Shepards Marina for more information.
For CHC's main harbour visitor moorings and river pontoon visitor moorings, overnight stays will remain as per the standard charges.
For Cowes Yacht Haven, East Cowes Marina, and other mooring providers, boat users are advised to visit their respective websites and contact them directly for the most up-to-date policy information and details on visitor berthing.
Cowes Local Notices to Mariners are in the process of being updated and reissued to reflect the Government's latest guidelines and in advance of a potential increase in visitors to Cowes Harbour now that overnighting is allowed.
All visitors to Cowes Harbour, whether regular or for the first time, are strongly advised to check all the current Notices to Mariners in force before setting off in their boat.