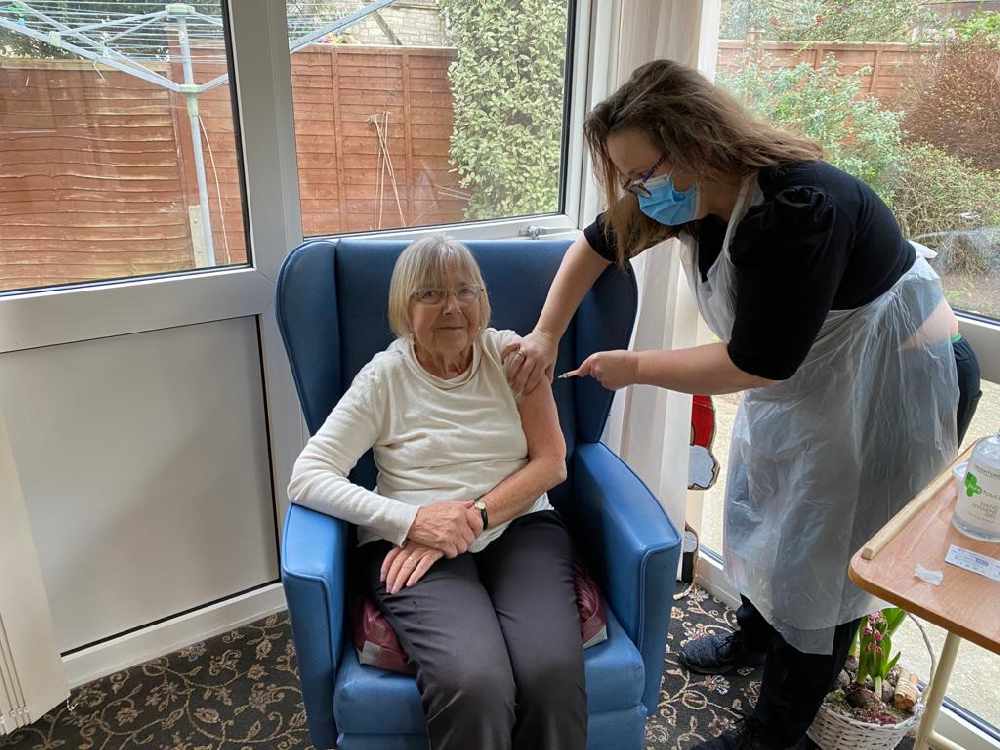 Dot Cotton, from Ryde, receives the coronavirus vaccine.
Nearly ten per cent of the Isle of Wight's population has now received a coronavirus vaccine.
According to the Isle of Wight NHS Trust's Medical Director, more than 10,000 Islanders have been given a jab so far.
That number doesn't include St Mary's Hospital staff who are receiving the inoculation - and only takes into account figures from the Island's four vaccinations sites.
Dr Stephen Parker said:
"We have had a fantastic response to the our staff vaccination programme which has been running almost a week now. There is a national prioritisation of staff from other groups, particularly fire and rescue and the police. Those are being addressed at this moment in time...
"I believe the number is over 10,000. The ability to deliver it is being ramped up."
The Island currently has four vaccination sites: Westridge Centre, Ryde; West Wight Sports and Community Centre, Freshwater; Carisbrooke Health Centre and The Bay Medical Practice, Shanklin.
Another centre is also being set-up at the Riverside Centre in Newport.
Isle of Wight MP Bob Seely said he hopes it will be up and running by the end of the month.
"Our vaccine centre at the Riverside will be ready on 15 January, but we may not get vaccine and sign off until 25 January or later. I have written to the Vaccine Minister and the Secretary of State on this issue and have been in near daily communication with them."
Earlier today, Isle of Wight Radio revealed that said 15 people are currently in the Critical Care Unit at St Mary's, which has a bed capacity currently of 20-24.
Some people are also on ventilators.
Dr Parker also discussed the possibility of transferring coronavirus patients to the mainland using RAF Chinooks. An article in The Guardian suggested this could be imminent.
At the moment, vaccinations on the Island are being administered first to those most at risk, including:
people aged 80
people who live or work in care homes
health care workers
Dot Cotton, aged 86, was among the first to receive the Oxford Astrazeneca vaccination over the weekend.
Islanders are being reminded that they will be contacted by letter when it is their turn to be vaccinated.