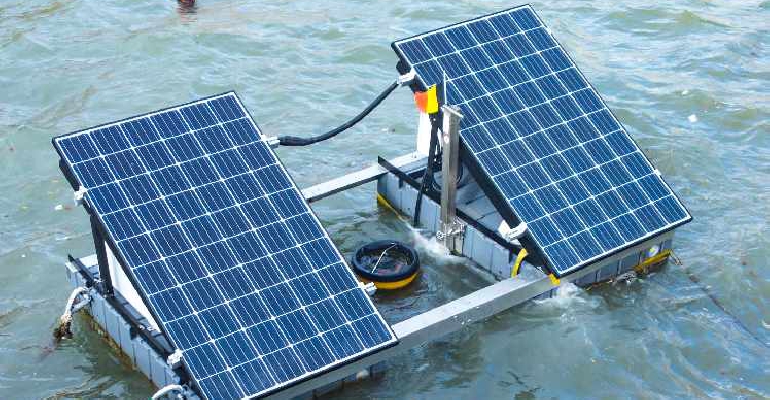 Seabin
An award-winning piece of technology, that will help reduce pollution and engage the public in a plastic campaign, is being installed in East Cowes today (Wednesday).
The Seabin can collect over one tonne of litter each year - that is the equivalent of 50,000 plastic bottles or 40,000 drink cans.
Hampshire and Isle of Wight Wildlife Trust want to install them around the Solent and this is the second one after the first was installed in 2019 at Ocean Village Marina, Southampton.
The Seabin represents a collaboration between several local organisations as part of the Trust's marine project, Secrets of the Solent, which is supported by the National Lottery Heritage Fund.
How does it work?
It sits in the water, attached to a structure like a pontoon, and floats up and down with the tide.
By drawing in and filtering water from the surface, the device catches a wide range of items from large plastic bottles to microplastics as small as 2mm.
The project will see several Seabins placed across the Solent, each accompanied by an information board explaining the technology and its environmental benefits.
Why East Cowes?
Seabins need to be in slightly sheltered areas, the currents cannot be too fast and the wave action can't be too great - so perfect for East Cowes.
Lymington will be where the next Seabin is installed "before too long" and it is hoped there will be another installed on the Island in the near future.
How can I get involved?
The machine will be maintained by national boating business, boatfolk, which operates East Cowes Marina and volunteers or marine champions of the Trust - who will be responsible for emptying it.
This summer volunteers will also be conducting surveys on the Island and hosting a range of events.
Hampshire and Isle of Wight Wildlife Trust are always looking for marine champions.
Why do we need a Seabin?
Things are not going swimmingly at sea. The latest figures show a dramatic decline in world ocean health and a significant reason for this is the vast amount of plastic pollution flooding our waterways.
It is estimated that 15 million tonnes of plastic enter the world's oceans every year and this figure is projected to almost triple by 2030.
It may be versatile and incredibly useful, but plastic never decomposes - it just breaks down into smaller pieces. The resulting microplastics contain toxins that can be passed on to the animals that eat them and, in turn, us.
By eradicating our use of unnecessary plastic - like single-use drinks bottles, coffee cups and plastic bags - and switching to reusable alternatives, we can all do our bit to protect our seas.
Dr Tim Ferrero, Senior Marine Biologist at Hampshire and Isle of Wight Wildlife Trust said:
"We're thrilled to have played our part in this Seabin installation through our wonderful 'Secrets of the Solent' project. Seabins help us all to tackle the global problem of plastics in the environment both by collecting litter that is already harming our seas and by raising awareness about the issue. Hopefully when people see the Seabin at boatfolk's East Cowes Marina, and the plastic it collects, they will be motivated to take steps toward reducing their own use of disposable plastics and determined to make every effort to recycle or dispose of them responsibly."
Steve McCrindle, Port Operations Director at DP World Southampton, added:
"We are delighted to work with The Wildlife Trusts and fund the Seabin, which will help support the Solent's diverse coastal habitats. DP World in the UK will continue to do everything it can to protect the marine environment and is working hard to meet the Government's net zero carbon target as part of our global commitment to sustainability".
Mike Townshend, boatfolk Marina Manager for East Cowes, concluded:
"It is great to be adding the Seabin to the range of initiatives we have in place to reduce ocean plastics. We are proud to be working with the local Wildlife Trust to provide a home for the first Seabin on the island as it is so important for us to protect the delicate ecosystem both in and around our marina".