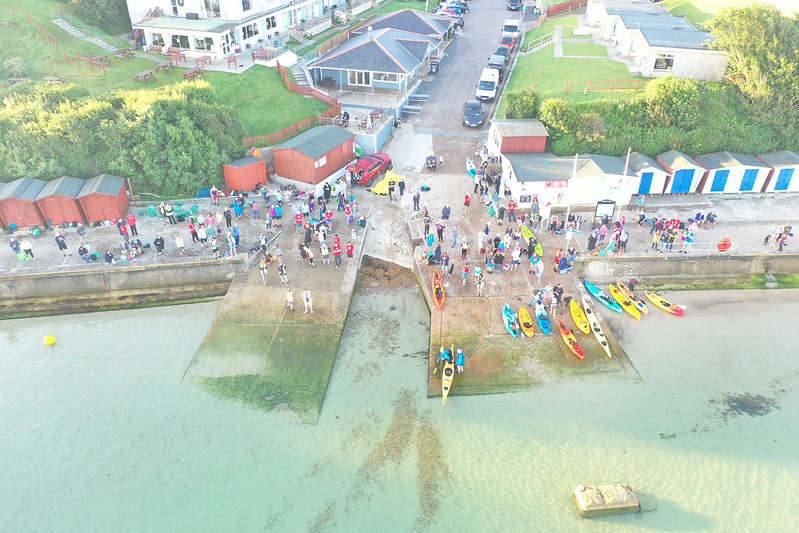 A record amount of more than £30,000 has been raised by swimmers in the 11th Solent Swim for the West Wight Sports and Community Centre.
56 swimmers met at Yarmouth Harbour at 4 o'clock on Sunday morning to be ferried across to Hurst Castle aboard Yarmouth Rose (Needles Pleasure Cruises).
At 4.45 they departed on their swim across the Solent to Colwell Bay, accompanied by 33 kayakers, a small flotilla of powered boats and two Freshwater Lifeboats.
Amongst the swimmers were the oldest and youngest-ever participants - veteran and highly accomplished swimmer, Jenny Ball, aged 83, and 17-year-old Lucy Isaacson.
Swimmers raise funds for the West Wight Sports & Community Centre - a registered charity that provides health and physical activities as well as community support activities.
In 2020 it also led the local response to the pandemic and formed the West Wight Hub, coordinating hundreds of volunteers across the West Wight, as first and exclusively reported by Isle of Wight Radio.
The money raised will support the charity to continue providing services to the community, get activities back up and running after the pandemic and for the Centre to continue to develop further.
Clare Griffin, Manager of the site in Freshwater said:
'Thank you to the numerous people who help to make the swim possible - kayakers, boat skippers, Lifeboat crew, beach crews, IslandFX who generously sponsored hot dogs for all at the end and most of all the swimmers and their sponsors.'
Scroll through the pictures below...